Today's Headlines:Tinubu's Inauguration Won't Affect Tribunal Judgement–Uche;God Made Me Gov–Ortom
Tinubu's Inauguration Won't Affect Tribunal Judgement–Uche
Photo Credit:Daily Post Nigeria
Click to see the Video on Twitter,,,Watch video on Twittter
Chris Uche, a lawyer to Atiku Abubakar, the presidential candidate of the Peoples Democratic Party, PDP, in the 2023 general election, has said the inauguration of President-elect Bola Tinubu will not affect the petitions at the election tribunal.
Tinubu was declared the winner on March 1 by the Independent National Electoral Commission, INEC, and is expected to be sworn in on May 29.
However, his victory is being challenged in court by Atiku and Peter Obi of the Labour Party (LP).
Some Nigerians, including the former Catholic Archbi
shop of Abuja, John Onaiyekan, have demanded that Tinubu should not be sworn in before the conclusion of the election tribunal.
But speaking with journalists in Abuja on Tuesday, Uche, who is Atiku's lead counsel, said: "I have been asked about May 29. I want to assure people that swearing in is only a ceremony that does not in any way tie the hands of the court.
God Made Me Gov–Ortom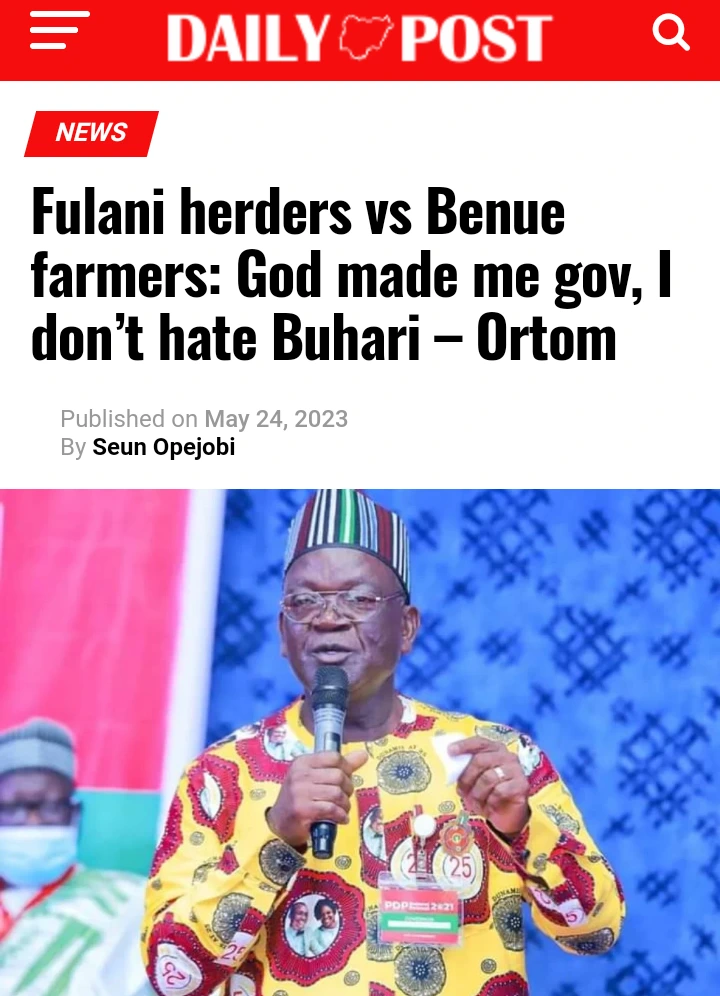 Photo Credit:Daily Post Nigeria
Governor Samuel Ortom of Benue State on Wednesday dismissed claims that he hates President Muhammadu Buhari due to the persistent armed Fulani attacks in the state.
Ortom explained that he does not hate Buhari, contrary to the opinion of many Nigerians.
Featuring on Arise Television's Morning , Ortom also disclosed that he was not the best candidate but God made him governor in 2015 and 2019.
According to Ortom: "I wasn't the best candidate in 2015 and 2019, but God made me the governor. Many people believe I'm an enemy of Buhari, but he remains my president till May 29. All I do is constructive criticism.
"I don't hate Buhari, we love each other, I was the first governor he took to South Africa when he became president. The issue is just that of Fulani herdsmen causing trouble, and I would continue to agitate.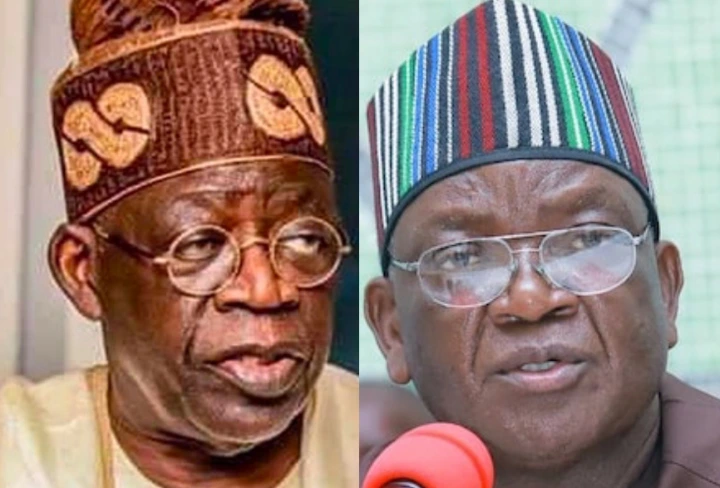 Photo Credit:Google
I'm Desperate To Leave, I Can't Cope With Pressure—Buhari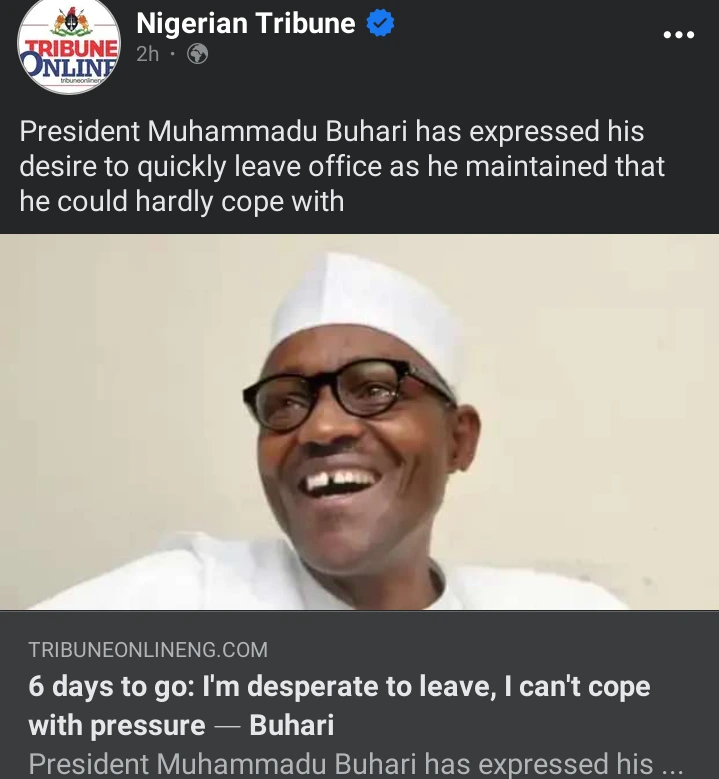 Photo Credit:Nigerian Tribune
President Muhammadu Buhari has expressed his desire to quickly leave office as he maintained that he could hardly cope with pressure around him in recent times.
With just six days left in his second and final tenure, Buhari arrived late to the Regimental Dinner organized on Tuesday night in his honour by the nation's armed forces at the Nigerian Armed Forces Officers' Mess, Asokoro, Abuja, blaming his inability to arrive promptly on pressure.
Noting that he had faced enormous pressure in the last few days, he explained that he had struggled to meet up with the activities lined up for him and at the same time wrapping up his tenure.
The President, who had earlier in the day, presided over an extraordinary meeting of the Federal Executive Council (FEC), virtually commissioned some projects and as well physically attended the inauguration event of the Customs headquarters in Abuja, apologized for his lateness.
He said: "Please, I will like to digress a bit from the prepared speech. I apologise most sincerely for keeping you waiting for about at least half an hour, actually I can hardly cope with the pressure and I'm desperately looking forward for the next six days."
I Closed Borders In The Interest Of Economy, Citizens —Buhari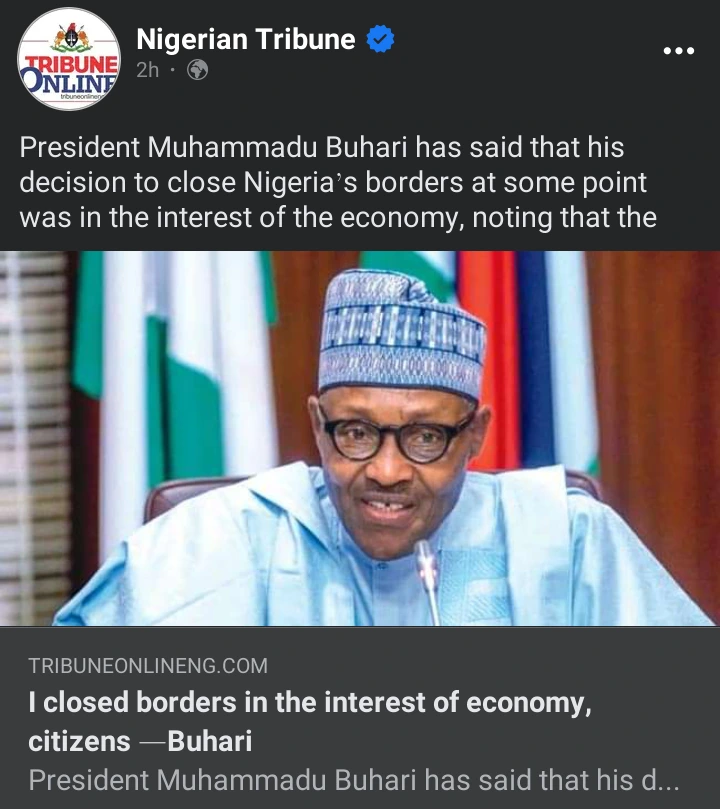 Photo Credit:Nigeria Tribune
President Muhammadu Buhari has said that his decision to close Nigeria's borders at some point was in the interest of the economy, noting that the citizens will appreciate it later.
He pointed out that the country has vast borders, which only God could secure from criminals.
The President spoke on Tuesday during the inauguration of the new corporate headquarters of the Nigeria Customs Service (NCS) in Abuja.
President Buhari restated his earlier position that he would be far away from Abuja at the end of his administration, and noted that he was speaking his mind.
He said: "Please note that from Lake Chad to Benin is more than 1,600km. Only God can effectively guard that border. So you need a person who will have the energy and the competence to effectively supervise it.
"I deliberately closed the borders because knowing Nigerians, they order rice and give some Niger address and then they bring the rice here.
We have our potentials. Thank God Nigeria is so blessed with people. We have land; we have weather. How many nations are so lucky like Nigeria in the world? Very few nations are as lucky as we are. We thank God for that.
"Closing that border 1,600Km from Lake Chad to Benin and Nigerians insist they have to help their neighbour and other people; they should eat foreign rice. I said you eat what you grow or grow what you eat or you die. I think I am trying to make my point
YAHAYA (
)