Today's Headlines: Tinubu inauguration: Nigeria At Critical Moment–Obi, Buhari congratulates Erdogan over electoral victory in Turkey
Tinubu inauguration: Nigeria at critical moment – Peter Obi
Click to see the Video on Twitter,,,Watch video on Twittter
Photo Credit: Dailypost
Ahead of the inauguration of the President-elect, Bola Tinubu, the Labour Party, LP, presidential candidate during the last election, Mr Peter Obi, has declared that Nigerians are at a critical moment.
Obi said Nigerians must understand that their destiny has been injured, hence the need to reexamine their hope.
Tweeting, Obi charged Nigerians to reassess the situation the country has found itself, and find a way to a better future.
According to Obi: "For all Nigerians, this is a time for deep reflection. It is also a time to re-examine our assumptions, even as we reaffirm our hopes.
"Let us calmly review our aspirations, in order to recalibrate our expectations and pin down the causes of our missed opportunities and disappointments.
"We stand at that critical moment in time when, as a people, we must collectively come to grips with the reality of our injured destiny as well as the reasons for that injury.
Buhari congratulates Erdogan over electoral victory in Turkey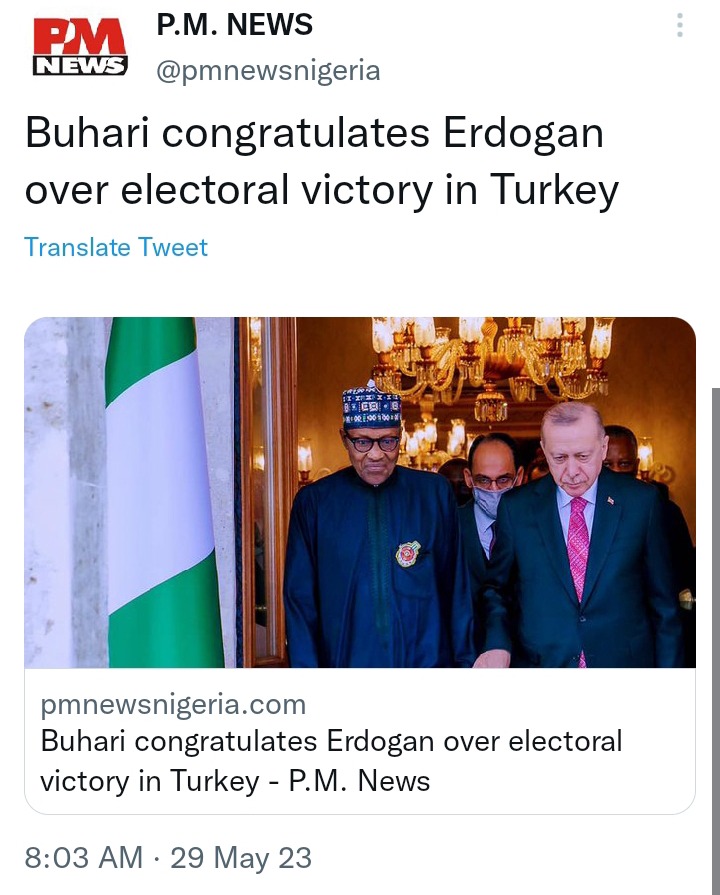 photo Credit: p.m.news
President Muhammadu Buhari has congratulated President Racep Erdogan on his victory in the Presidential election upon defeating the opposition candidate Kemal Kilicdaroglu in the second round of voting.
His felicitations are contained in a statement by his media aide, Malam Garba Shehu on Sunday night in Abuja
According to Buhari, the re-election of Erdogan would augur well for the wellbeing of the very important relations between Nigeria and Turkey.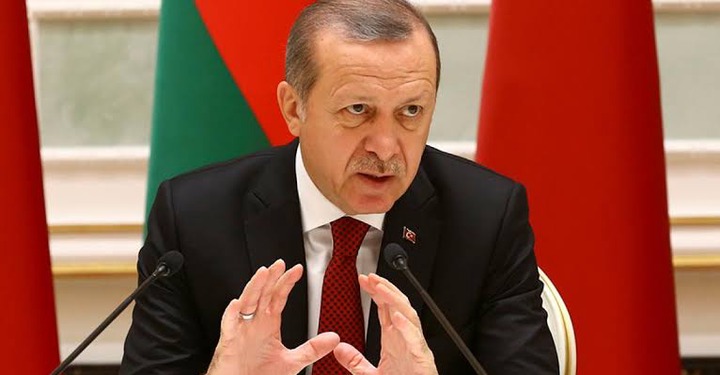 Photo Credit: Google
He said, "I welcome the reelection of Erdogan, a steadfast champion of a fair and just global order and a true friend of Nigeria.
May 29: As Tinubu Takes Baton Of Leadership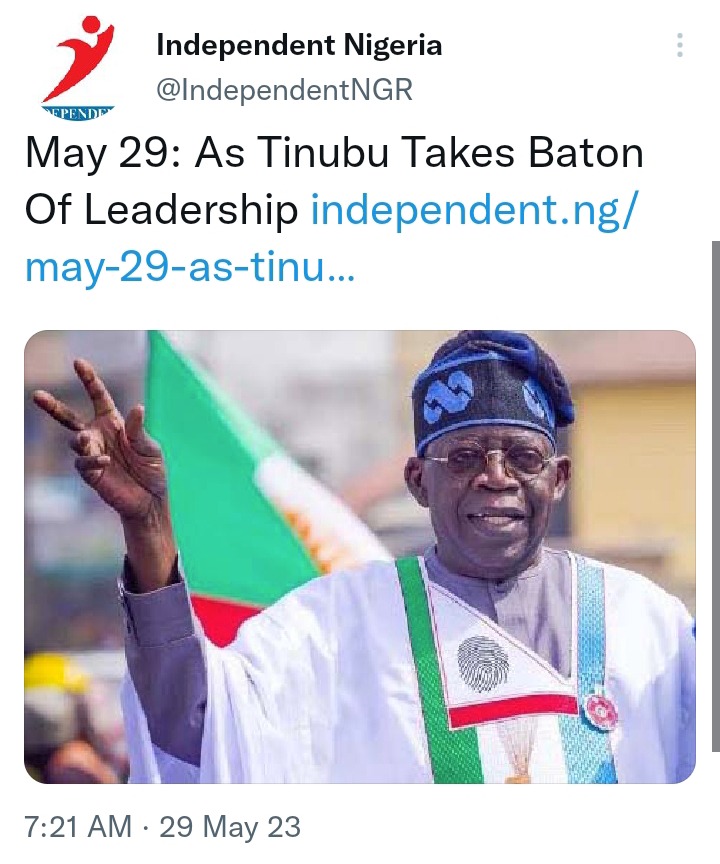 Photo Credit: Independent Nigeria
May 29, the President-elect, Asiwaju Bola Tinubu will take over the mantle of leadership from the outgoing President Muhamadu Buhari as the 16th President of the federal Republic of Nigeria.
Expectations are high as Nigerians look forward to the exit of President Muhammadu Buhari who has served eight years having won an election in 2015 for the first term and a reelection in 2019.
There are speculations that the administration of the Katsina State born retired General is marked with hardship, killings and all kinds of agitations across various groups with some people saying that his regime has divided Nigerians across ethnic and religious lines as never before in its history.
While it is true that the election that gave victory to the former Lagos State Governor is adjudged as the most controversial election in Nigeria, as well as the issue of popularity, where the President-elect got less than 40 percent of votes to emerge winner.
I'm discouraged after last week's visit to Buhari­ – Bakare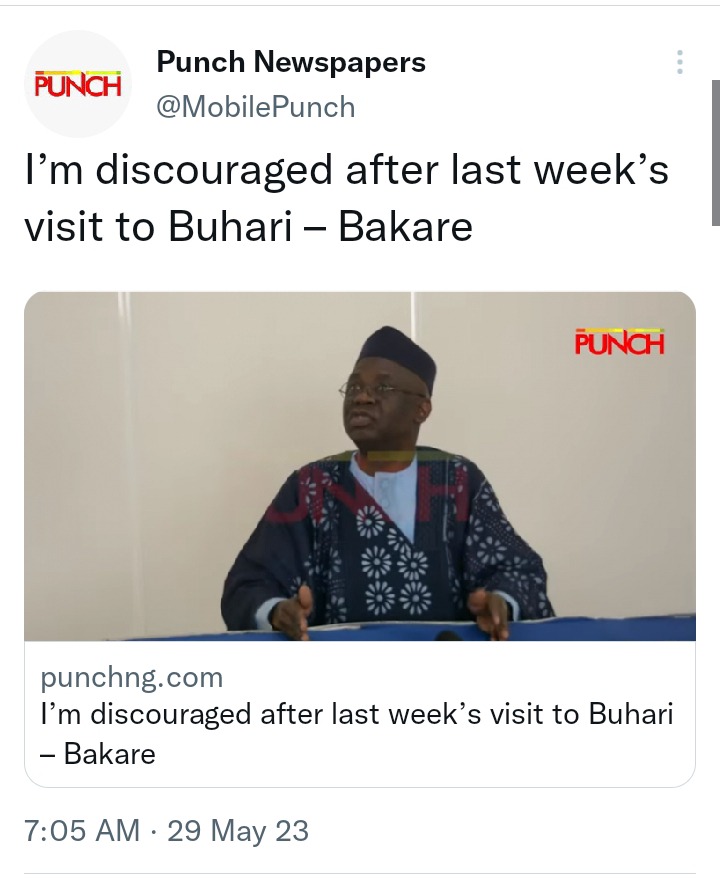 Photo Credit: Punch paper
The Serving Overseer of the Citadel Global Community Church, Pastor Tunde Bakare, says he visited the outgoing President, Major General Muhammadu Buhari (retd.), last week and left the place so discouraged "that I need time to encourage myself in the Lord, my God."
He explained that the discouragement he felt was the reason he turned down an invitation by the Governor of Kaduna State, Mallam Nasir El-Rufai, to inaugurate a road in Kaduna State.
The cleric and politician, during a webinar on Saturday, said he was putting the record straight, emphasising, "I didn't go, I wasn't there."
He said this before delivering his speech on the Zoom programme titled 'Building the New Nigeria: The Role of the Diaspora' organised by the PTB4Nigeria In Diaspora Group.
"They wanted me to come and commission some road in Kaduna with my name written boldly on it. I see the road here, Isa Kaita Road, and they wrote on it (that) it was commissioned by Pastor Tunde Bakare on Friday, May 26, 2023. I wanted to share with you that I didn't go, I wasn't there," Bakare said.
He read out a message he sent to El-Rufai through WhatsApp on Thursday explaining why he would not make it to the programme.
"Good morning, hope you had a good night's rest. Sorry, I missed your call, I slept late last night, so I just got home. I would like to sincerely appeal to you to please release me from commissioning any road tomorrow (Friday).
Crownprincess (
)