Today's Headlines: El-Rufai 'll Play Major Role In Tinubu's Govt – Umahi; Don't Be Like Buhari Reno To Tinubu
El-Rufai ll Play Major Role In Tinubu's Govt_Umahi
Photo Credit:The Cable
David Umahi, former governor of Ebonyi state, says Nasir el-Rufai, the immediate past governor of Kaduna, will play a major role in President Bola Tinubu's government.
Umahi spoke on Friday during an interview on Arise Television.
The former governor was asked if Tinubu will distance himself from el-Rufai who was seen on video boasting about Muslims leading the affairs of the country.
Responding, Umahi, who is senator-elect of the All Progressives Congress (APC), said Tinubu will not distance himself from people who worked for his victory during the election.
He said el-Rufai will play "a major role" in Tinubu's administration because Tinubu rewards loyalty.
"Mr President has not distanced himself from individuals that worked for him. All these people that worked for him, they have direct access to Mr President," Umahi said.
"There is no time I go to the villa that I don't see these individuals. The president has in his heart the federal character of the nation and I believe strongly that he is a man that rewards faithfulness, he is a man that rewards diligence, he is a man that rewards honesty.
Don't Be Like Buhari Omokri To Tinubu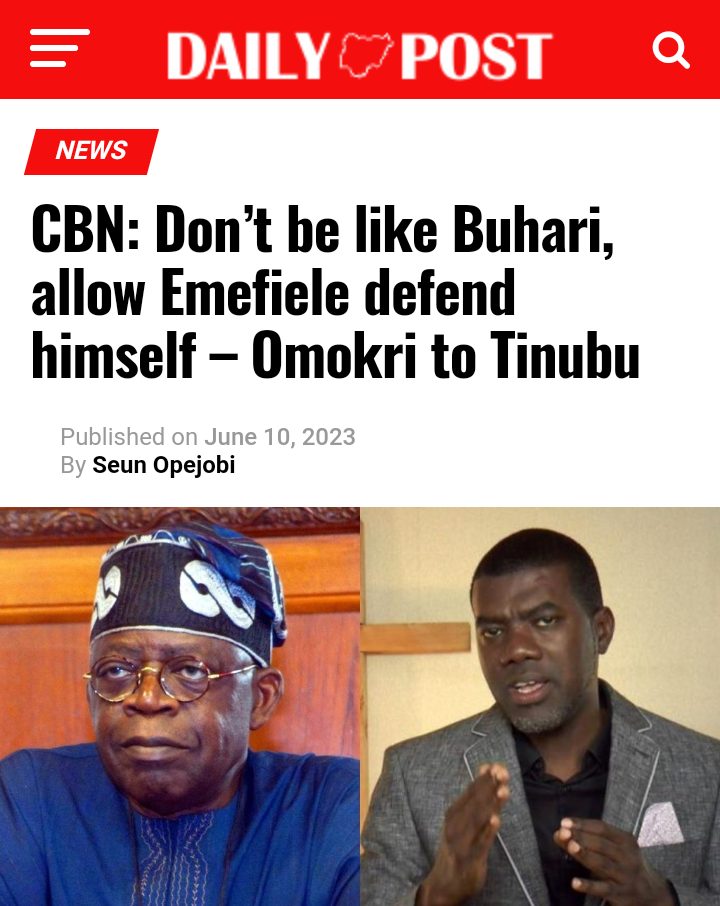 Photo Credit:Daily Post Nigeria
Reno Omokri, a socio-political activist has cautioned President Bola Tinubu against incarcerating the arrested former Central Bank of Nigeria, CBN, Governor, Godwin Emefiele without defence.
Omokri said Tinubu should allow Emefiele defend himself of any allegation raised against him.
He charged Tinubu not to repeat the mistake of former President Muhammadu Buhari by arresting officials of the previous administration without allowing them to defend themselves.
Tweeting, Omokri wrote: "Where is Godwin Emefiele? The Tinubu administration should not lock him up and begin to make public allegations against him. This is precisely what Buhari did to Jonathan administration officials as soon as he took over in 2015.
"They were locked up, and while incarcerated, allegations were made to turn the public against them, without giving them an opportunity to defend themselves.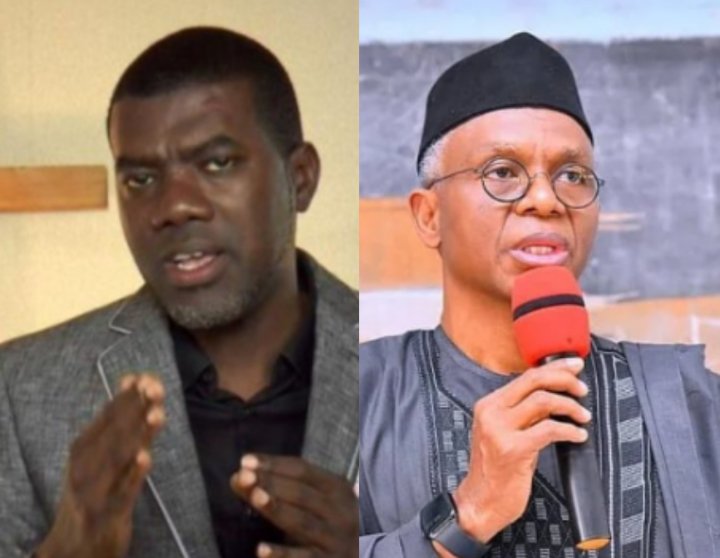 Photo Credit:Google
Clark Backs Southern Christian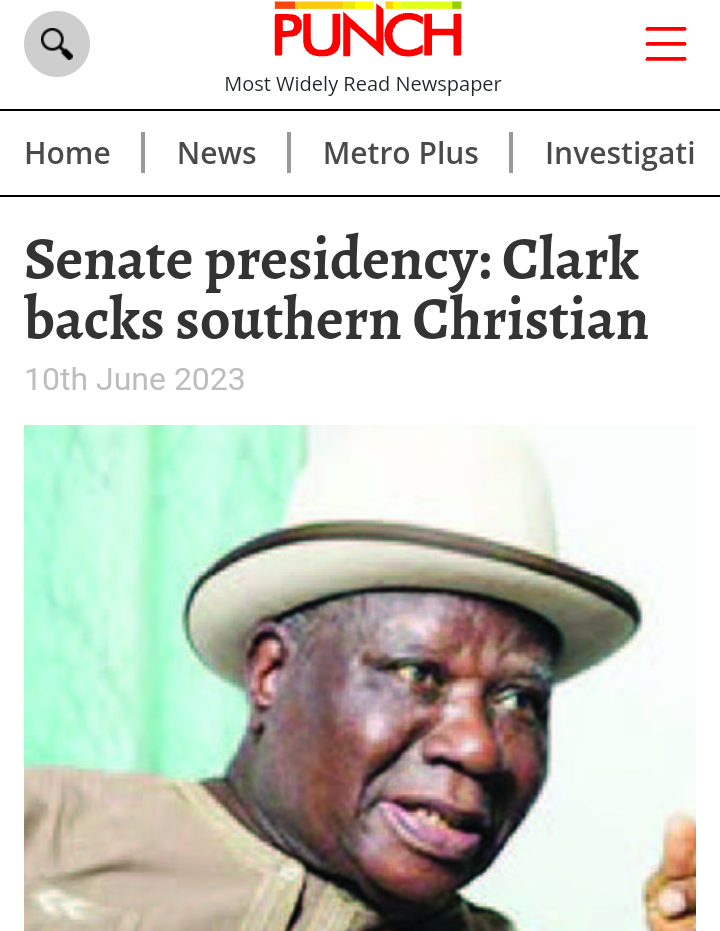 Photo Credit:Punch papers
Ahead of the June 13 inauguration of the 10th National Assembly, elder statesman and former Federal Commissioner for Information, Chief Edwin Clark, has called on senators-elect to support a Christian from the South for senate presidency.
He said this in an open letter to the 109 senators-elect on Friday.
The Ijaw leader identified the need to build bridges of unity, which in his words, were left in tatters during the eight-year administration of former President Muhammadu Buhari.
Clark stated, "The tension over who occupies what position in the 10th Senate is overheating our polity and hurting the fragile peace and unity we are currently having in our beloved country.
"It is time to heal our land, and in so doing, what I expect of the 10th Senate is to give the position of Senate President to a Christian senator from the southern part of the country. It is only fair, equitable and just to do so.
"We have Senator Bola Ahmed Tinubu and Senator Kashim Shettima as President and Vice President respectively. Both of them are Muslims. The Chief Justice of Nigeria, Olukayode Ariwoola, is a Muslim .
Don't Appoint Corrupt Politicians, CSOs Charge Tinubu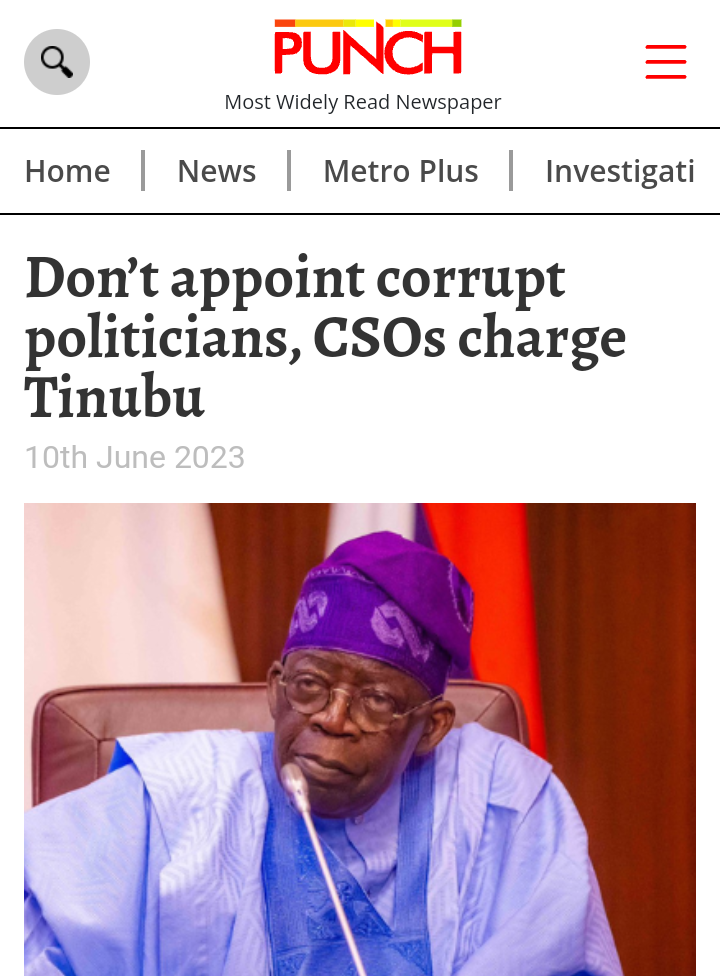 Photo Credit:Punch papers
The Civil Society Legislative and Advocacy Centre and Human Rights Writers Association of Nigeria have called on the President, Bola Tinubu, not to appoint recycled and corrupt politicians into his cabinet.
They said inasmuch as he might be under pressure to appoint former governors who supported him during the electioneering, he should look beyond party affiliation to appoint persons that would help him deliver on his promises.
The Executive Director, CISLAC, Ibrahim Rafsanjani, said, "For Tinubu to succeed, he must not populate his government with outgoing officials who did nothing to improve Nigeria's public image. He must avoid corrupt people, those who demonstrated cluelessness while in office. He should bring on board men who can do the job and must avoid past governors who were famous for bad governance in their states."
Also, the National Coordinator, HURIWA, Emmanuel Onwubiko, stated, "Tinubu should not appoint politicians who have cases with the Economic and Financial Crimes Commission or those associated with fraudulent businesses or any sort of criminal enterprise. The criminal records of all nominees must be vetted by the appropriate security authorities like the police, Department of State Services, the EFCC and the Independent Corrupt Practices and other related offences Commission."
YAHAYA (
)