Shehu Sani Reacts After Kano Governor Declared Emergency On Water Scarcity.
Senator Shehu Sani, a Nigerian author, human rights activist and senator that represented Kaduna State at the 9th National Assembly, has taken to his official Twitter platform to react after the new governor of Kano State, Abba Kabir Yusuf, declared a state of emergency on water scarcity in the State.Photo Credit: Punch paper
Click to see the Video on Twitter,,,Watch video on Twittter
In his post, the federal lawmaker wrote that "I am impressed by the Kano governor's declaration of emergency on water scarcity. In our case, the failure of Kaduna State government to provide running water in the last 8 years can only be understood by the residents of Kaduna. They will always show you the beauty and hide the sickness".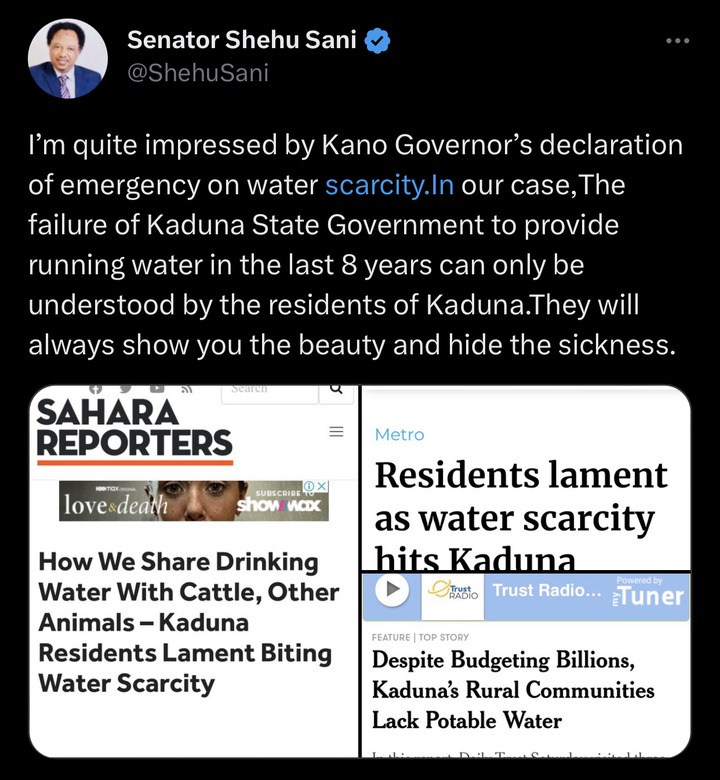 His post was coming hours after the new governor of Kano State gave seven days to the management of Kano State Water Board to submit its demands and end the lingering water scarcity in the state.
The governor gave the order when he visited the Challawa Water Treatment Plant on Tuesday, and also said that the development is part of his administration's focus to cushion the effect of water scarcity across the state.
Meanwhile, Shehu Sani shared news headlines to prove that the situation is worse in Kaduna State, and the government of the state in the past eight years had done very little to end the scarcity of water in the state.
FrankChukwu (
)