I Didn't Open My Legs For Your Ex-Husband I'm Not Loose- Iheme Nancy Reacts To Sandra Iheuwa
Lagos-based socialite and businesswoman, Sandra Iheuwa was with media personality, Chude Jideonwo on his talk show, WithChude where she talked about her previous marriage and how actress, Iheme Nancy was in a romantic affair with her ex-husband before she got married to him. Watch video
During the interview, Jide asked what led to altercations between her and Nancy, and she responded by saying, her ex-husband talks a lot and before she got married to him, he has always shown her his chat with Nancy and she knew they were in a romantic relationship but what she's shocked about is why she(Nancy) came for her wedding.
Click to see the Video on Twitter,,,Watch video on Twittter
Sandra added that during their honeymoon, her ex-husband shared a post of when he give her(Sandra) breakfast in bed and Nancy commented on her post. She noted that she didn't like her remark and knows it was her ex-husband that told her to delete the comment.
Reacting to this, Iheme shared a lengthy post on her Instastory.
She said Sandra is an attention seeker, adding that she should keep looking for who to drag and that she's not the one that scattered her 100 million Naira marriage.
Iheme said they were not even friends, adding that she was the one that married "MTN everywhere you go" and now, she's looking for who to tag to her [email protected]
Nancy said she can sue her and her Ex till they bring evidence, adding that her ex talks a lot and that how is she sure that he had gone down([email protected]) with her.
Iheme said she doesn't know how many celebrities her ex once told her he has had something with including her close friends, adding that she's not her(Sandra) that went to open legs for him because she's not loose.
Nancy said she still can't understand why she's(Sandra) dragging her, adding that she doesn't even know her with her Ex. She said Sandra should stay away from her because she wasn't the one that break her heart.
In conclusion, the beautiful actress said she will not speak on this issue again because she(Sandra) is not worth it.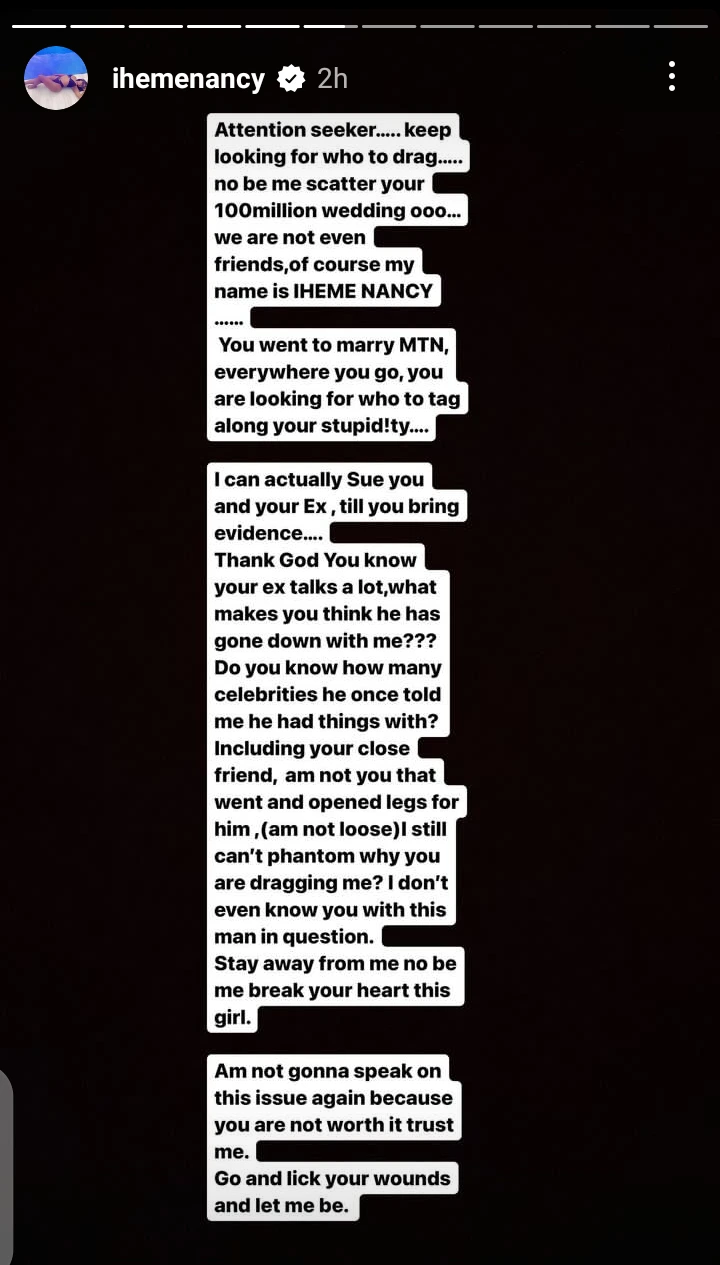 EssienAkpan (
)