Did Arsenal Really 'Bottle' The Premier League Title Race?
Arsenal's journey in the Premier League this season surpassed expectations as they emerged as genuine title contenders. While initially aiming for a top-four finish, the Gunners showcased their potential to achieve much more. However, despite their strong campaign, Arsenal fell short in their pursuit of the title, with Manchester City claiming the crown for the third consecutive year and fifth in the last six seasons.
It is important to acknowledge the dominance of Pep Guardiola's City and not label Arsenal as 'bottlers.' At one point, Arsenal held an eight-point lead at the top of the table and spent a remarkable 248 days in the summit, the longest stretch without winning the title in Premier League history.
Click to see the Video on Twitter,,,Watch video on Twittter
While the losses to City were significant, it was the draws against Liverpool and West Ham, squandering two-goal leads in both matches, that initiated a downturn in Arsenal's fortunes. Additional dropped points against teams like Southampton, Brighton, and Nottingham Forest further derailed their title hopes. Arsenal lacked the necessary resilience during crucial moments down the home stretch, winning just two out of eight fixtures.
Part of Arsenal's struggles can be attributed to the relentless pressure applied by Manchester City, who have set a new standard in the Premier League. To compete with City, teams must amass 90 points or more. However, Arsenal can draw inspiration from Liverpool's ability to bounce back from disappointment and emerge stronger.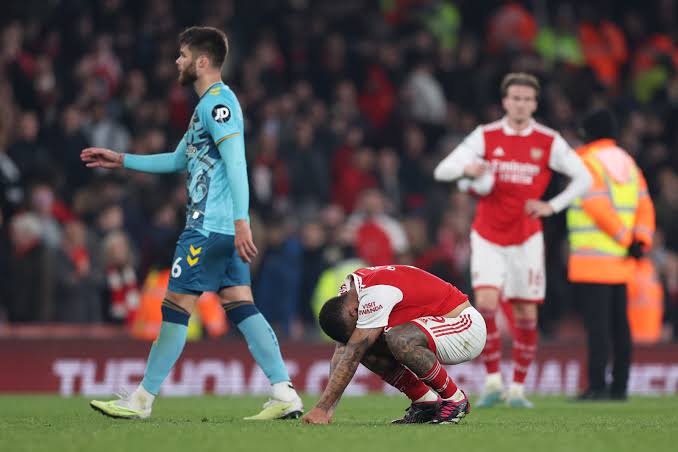 This summer presents a crucial opportunity for Arsenal to reflect on their shortcomings and address their flaws. Analyzing why they fell short in the title race will be essential in their quest for improvement. While City's dominance is undeniable, Arsenal must strive to bridge the gap and challenge for the title in the seasons to come.
Resourceful001 (
)