Bwala mocks Ahmad Bashir, after Bashir asked him the time he would return back to Nigeria
Yesterday, Mr Daniel Bwala, who happens to be the spokesperson to Alhaji Atiku Abubakar, who was the presidential candidate of the Peoples Democratic Party, PDP, during the 2023 presidential election, said that, the majority of Tinubu's supporters, who were abusing him because he defected to the Peoples Democratic Party, PDP, were his greatest fans in the All Progressives Congress.
Click to see the Video on Twitter,,,Watch video on Twittter
He said he understood their emotions perfectly and till tomorrow, the President-elect knew that he was very loyal to him when he was in the PDP.
He said, "99 percent of Asiwaju supporters abusing me here were my greatest fans when I was in APC. I can perfectly understand your emotions and I am not mad at you. Till tomorrow Asiwaju appreciates my loyalty and support when I was in APC. I am okay with that."
However, while Bashir Ahmad, who happens to be the Special Assistant to President Muhammadu Buhari,on Digital Communications, was reacting to Daniel Bwala's tweet, he asked the latter the time he would come back to Nigeria.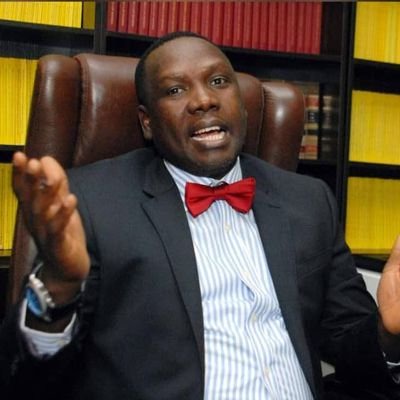 Bashir Ahmad said, "When are you coming back home, Sir ?"
However, while Daniel Bwala, was reacting to Bashir's tweet, he said he will be coming back home, when Bashir wins the House of Representatives primary election in Kano State, with Governor Abdullahi Ganduje as the governor of the state.
He said, "Bashir, I will come back when you win the ticket for house of reps primaries in Kano WITH GANDUJE AS GOVERNOR. Lolllllllllllllll"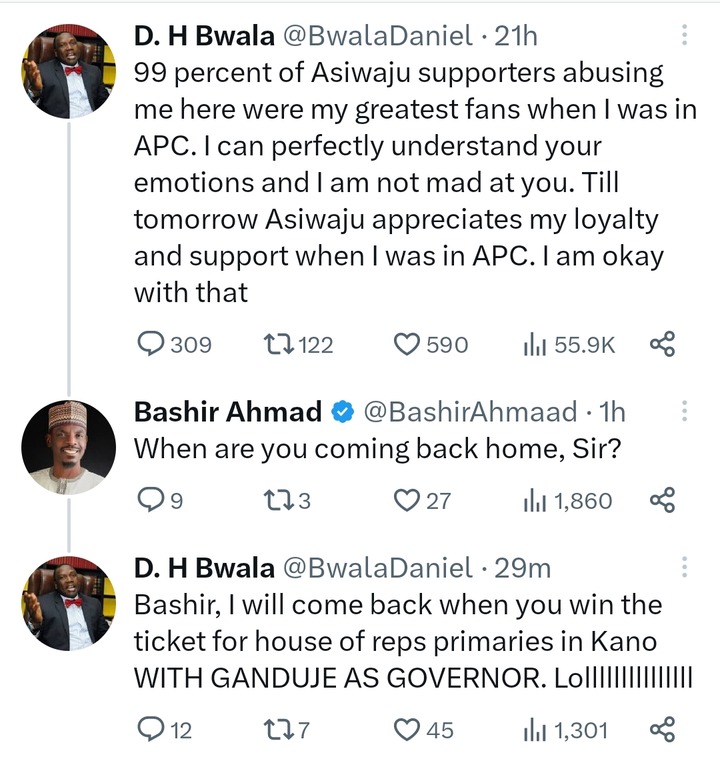 Moses21 (
)