Ukraine Strikes Occupied City: Russian Officials Suspect British Missiles Used.
(Photo Credit: CNN)
Click to see the Video on Twitter,,,Watch video on Twittter
Ukrainian forces have allegedly launched a significant attack on the occupied city of Berdyansk, according to Russian officials, as per a report CNN.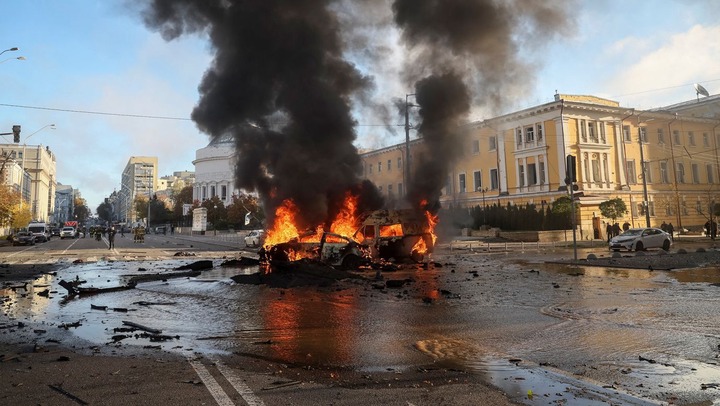 (Photo Credit: CNN)
Vladimir Rogov, a member of Russia's local administration in Zaporizhzhia, shared the information on Thursday the messaging app Telegram.
While the extent of the damage and casualties remains unknown, emergency response teams have been dispatched to the site.
Rogov speculated about the type of missiles used in the strike, mentioning the possibility of British Storm Shadow missiles.
Given that Berdyansk is located deep within Russian-controlled territory, approximately 100 kilometers (62 miles) from the front line, the utilization of such missiles seems plausible.
The Storm Shadow missile is a stealthy, long-range cruise missile jointly developed by the United Kingdom and France.
Typically launched from aircraft, it possesses a firing range exceeding 250 kilometers (155 miles).
Although it falls slightly short of the 185-mile range capability of the U.S.-made surface-to-surface Army Tactical Missile Systems (ATACMS) that Ukraine has long desired, the Storm Shadow missile remains a formidable option.
In May, the United Kingdom announced the delivery of multiple Storm Shadow missiles to Ukraine.
The reported attack on Berdyansk exacerbates the already tense situation between Russia and Ukraine.
As both nations continue to engage in conflict, the use of sophisticated missiles like the Storm Shadow further escalates the severity of the situation.
The incident underscores the ongoing struggle for control over the region and the potential for increased hostilities.
As news of this alleged strike spreads, the international community awaits more information regarding the situation on the ground, including casualty reports and the motives behind the attack.
The development also prompts discussions about the involvement of foreign nations in providing advanced weaponry to Ukraine, which could significantly impact the dynamics of the conflict.
AaronBuzo (
)