Today's Headlines:INEC Is A Monumental Disgrace-Chidoka, Nigerians Want Changes To Happen Quickly-Abdulsalami
INEC Is A Monumental Disgrace, Says Chidoka
Photo credit: Channel
A chieftain of the Peoples Democratic Party (PDP) Osita Chidoka has berated the Independent National Electoral Commission (INEC) over its conduct of the 2023 presidential election.
The PDP and Peter Obi's Labour Party (LP) had challenged the declaration of Bola Tinubu of the All Progressives Congress (APC) as the winner of the February poll, praying the court to nullify his win on the basis – among others – that INEC did not do a real-time transmission of results to the election portal.
But the Presidential Election Petitions Tribunal (PEPT) ruled that INEC is at liberty to transmit results in whichever way it deemed fit. Though the court had struck out the petition and affirmed Tinubu's win, Chidoka blamed the electoral body for reneging on its pre-election assurance that it would transmit the election results in real time.
"INEC is a monumental disgrace. INEC is an organisation I am ashamed to be associated with as a Nigerian," he said on Channels Television's Sunday Politics, faulting the electoral umpire's inability to electronically transmit election results in real time.
Abdulsalami: Nigerians Want Changes To Happen Quickly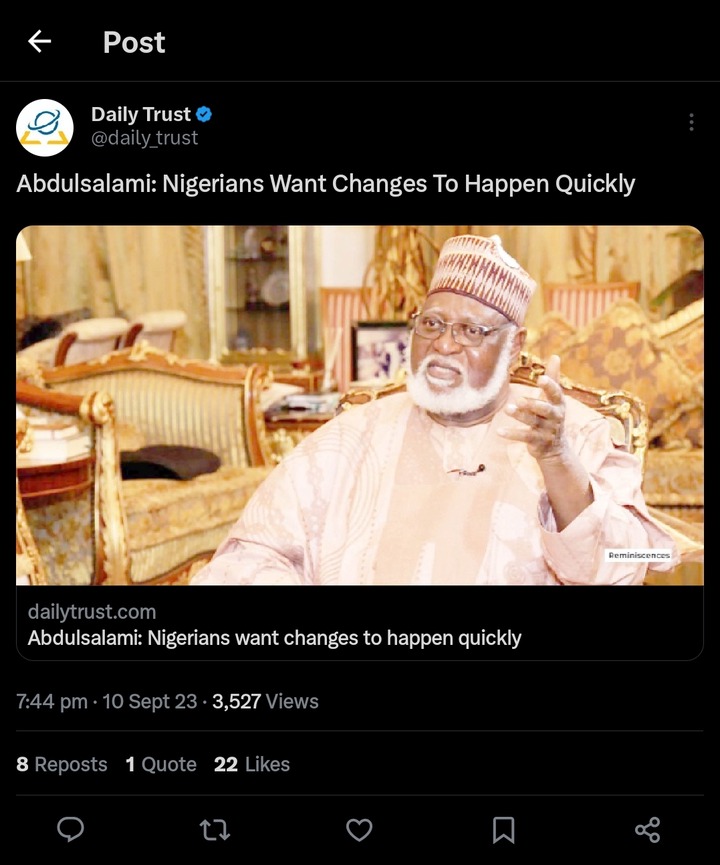 Photo credit: Dailytrust
Gen Abdulsalami Abubakar (rtd), a former Head of State, has told the current administration of President Bola Tinubu that Nigerians need change to happen quickly.
Abdulsalami said this on Sunday when the Minister of Information and National Orientation, Mohammed Idris, paid courtesy visits to him and another former head of state, General Ibrahim Badamasi Babangida.This was contained in a statement by the Deputy Director, Press and Public Relations, Ministry of Information and National Orientation, Suleiman Haruna.
According to the Minister, the visits to elders are part of Nigeria's cultural heritage.
The minister noted that the fatherly role they provided for this country over the years will continue to be appreciated.
He also informed them of the resolve of the President to return Nigeria to its path of glory.
Abdulsalami congratulated President Tinubu-led administration for clocking 100 days in office and the minister on his appointment.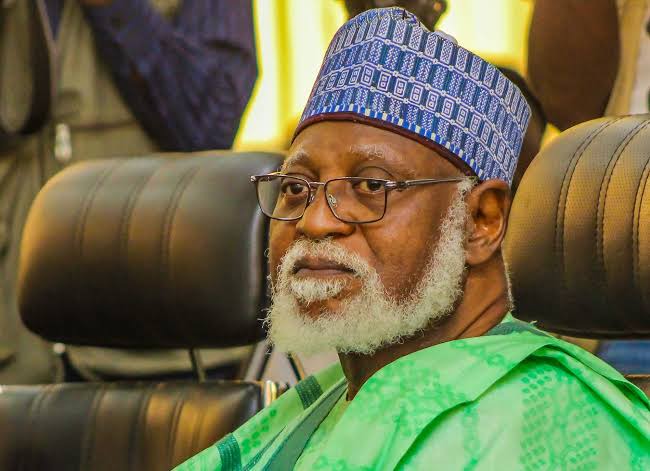 Photo credit: Google
Delta South: Joel-Onowakpo petitions Appeal Court over delay in tribunal's verdict CTC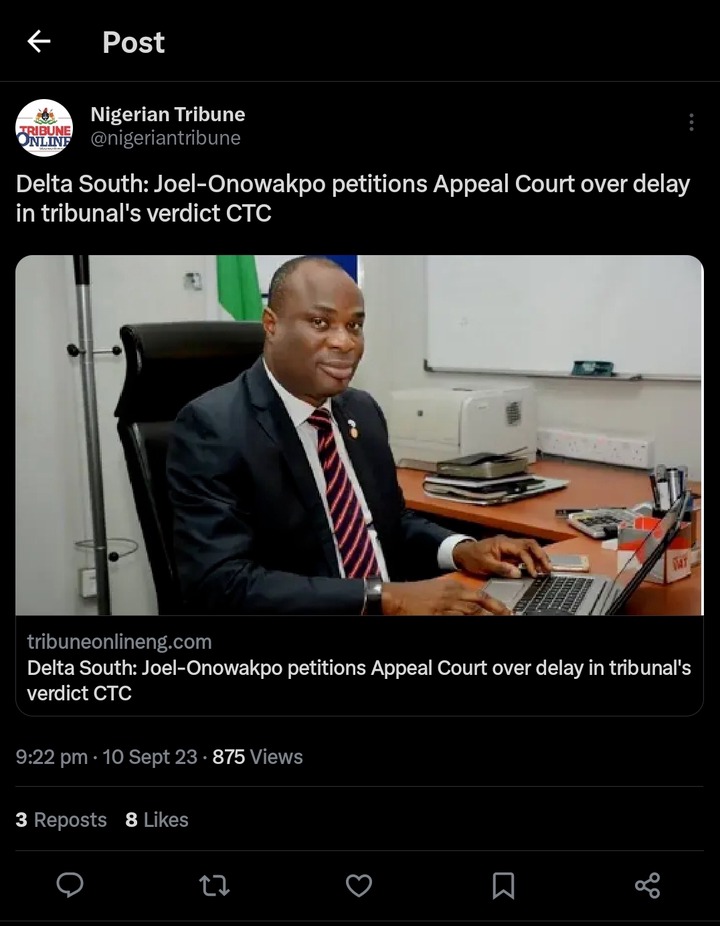 Photo credit: Nigerian Tribune
The Senator representing Delta South Senatorial District, Sen. Joel-Onowakpo Thomas, has appealed to the President of the Court of Appeal of Nigeria to prevail on the Chairman of the National and State House of Assembly Election Petition Tribunal Panel 3 sitting in Asaba, Delta State, to release the Certified True Copy (CTC) of the Judgement on petition number EPT/DL/SEN/01/2023-Diden Michael & ANOR v INEC & ORS.
Sen. Joel-Onowakpo's appeal is contained in a petition to the President of the Court of Appeal, Nigeria, signed by his Counsel, Robert Emukpoeruo SAN, of Summit Law Chambers, Solicitors & Advocates, titled, "Non-release of Judgement Delivered on 6th September, 2023 is in Petition No: EPT/DL/SEN/01/2023 – Diden Michael & ANOR v INEC & ORS.
It will be recalled that the National Assembly Election Petition Tribunal sitting in Asaba had ordered a rerun in Warri South Local Government Area, which, according to the judgement, should hold within 90 days.
DSS reportedly arrests CBN Deputy Gov, Ahmad over alleged fraud.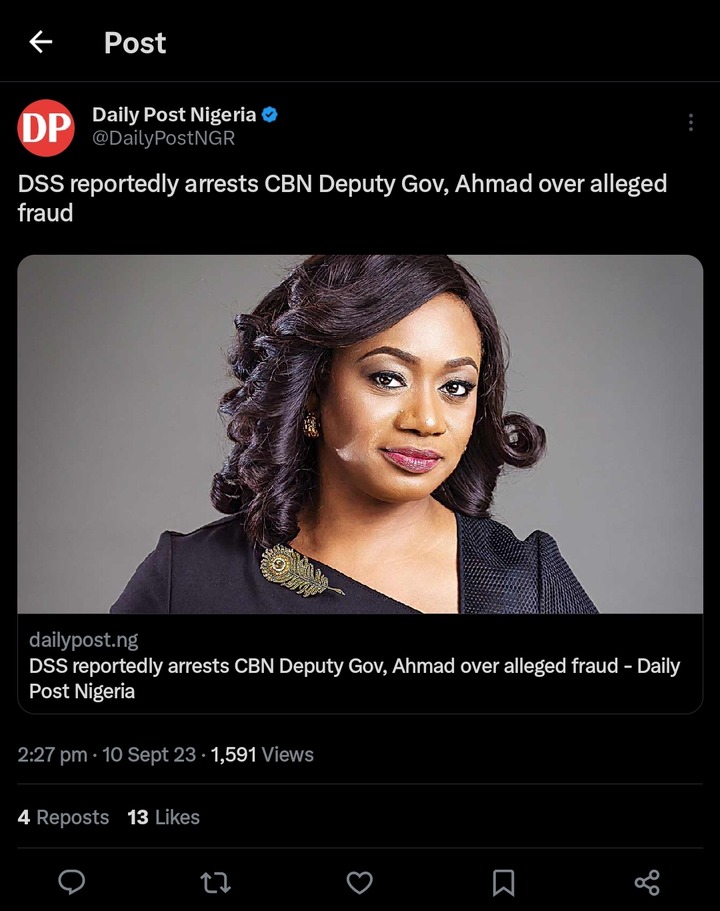 Photo credit:Daillypost
The Department of State Security Service, DSS, has reportedly arrested the Deputy Governor of the Central Bank of Nigeria, Aisha Ahmad, over an alleged fraudulent acquisition of shares in Polaris Bank and Titan Bank (Union Bank).
DSS spokesman, Peter Afunanya, told Channels Television on Sunday that he could not confirm or deny that Ahmad is in their custody or has been invited for questioning.
Meanwhile, according to reports making the rounds, Aisha is also being interrogated on how $300 million was raised by Titan Bank to complete the acquisition of Union Bank in 2022.
Speaking on the development, Afunaya stated that in the course of any investigation, people can be invited for questioning, and those invitations are carried out within the ambit of the law.
This is coming about two months after the secret service arrested Ahmad's former boss at the CBN, Godwin Emefiele. He has been in the DSS custody since then.
Crownprinces2 (
)