Today's Headlines: Why The US Visa Ban Must Include Tinubu-Ogbonnia To Biden; Tinubu Returns To Nigeria
Why The US Visa Ban Must Include Tinubu: A Letter to President Biden By SKC Ogbonnia
Click to see the Video on Twitter,,,Watch video on Twittter
Photo Credit: Sahara Reporters
It is with great pleasure that I welcome the decision of your administration to fulfil its promise to impose visa ban on Nigerian politicians whose actions or inactions led to various acts of terrorism, including money laundering, thuggery, assassinations, destruction of property, and street killings during the Nigerian elections of 2023.
Before going further, please permit me to re-introduce myself. I am an Oil & Gas executive resident in the United States of America and currently sit at the board of First Texas Energy Corporation as chairman. I have also taught in many U.S. universities and colleges for over two decades and remain an Adjunct professor at the Houston Community College System. More relatively, I am a member of the All-Progressives Congress (APC), the ruling party in Nigeria, through which I explored a presidential race during the country's 2019 electoral cycle.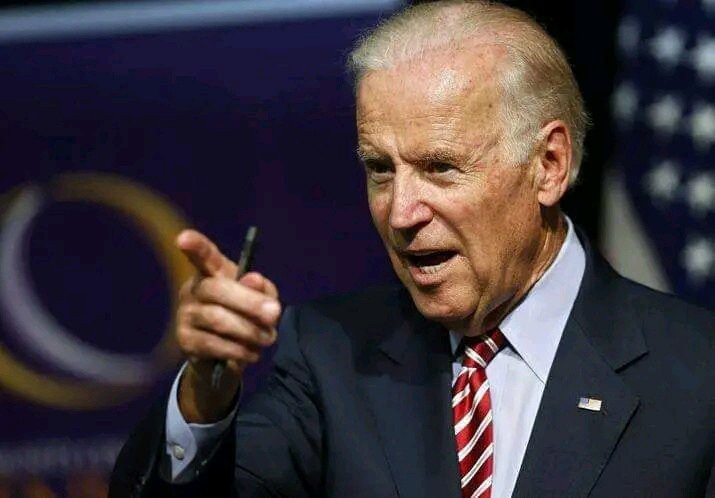 Photo Credit: Google
This letter is a solemn appeal for you to use your good offices to ensure that the visa ban includes Bola Ahmed Tinubu, the presidential candidate of the APC in the controversial 2023 election. The lingering stench of blood flowing from the said election has its origin in his brain. In short, any attempt to exclude him is akin to any discussion of the January 6 U.S Capitol Attack without a mention of Donald Trump.
The conspiracy of violence that marred Nigeria's 2023 elections was not only plainly premeditated and planned, but it was also well studied, foreseen, and reported to the public and relevant authorities before it hatched.
For example, in a widely circulated essay, titled "Tinubu's Blind Ambition Provoking a Civil War, By SKC Ogbonnia", I had exposed the very conspiracy that came to pass. The essay was published June 16, 2022, eight months before the election, and copied to the U.S. intelligence community, including the Department of State. It is a chronological account of Tinubu's history with violent extremism. An excerpt reads as follows:
President-Elect' Tinubu Returns To Nigeria After Medical Treatment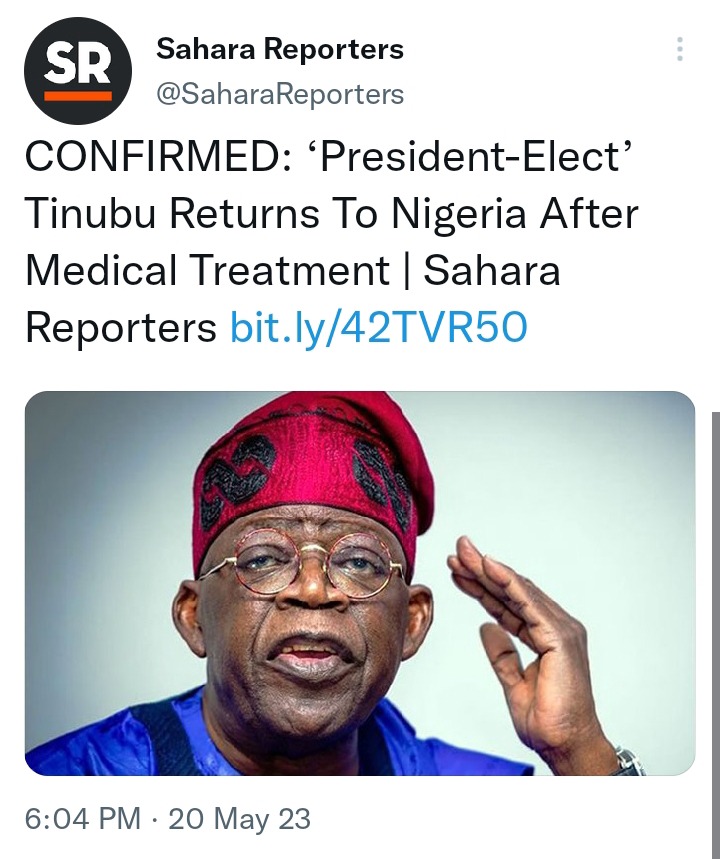 Photo Credit: Sahara Reporters
Nigerian "President-elect" Bola Tinubu has returned to Nigeria eight days to his inauguration, as earlier reported by SaharaReporters after top sources confirmed his departure from France.
The incoming president returned to the country on Saturday after more than a week in Europe.
SaharaReporters earlier reported that barring last minute changes, Tinubu would return to Nigeria from Europe, where he had been on medical treatment in France particularly.
Top sources, who confided in SaharaReporters, had stated that Tinubu was preparing to return to the country today, Saturday ahead of the one-week different activities lined up for his inauguration on May 29.
SaharaReporters had on May 10 reported that a statement by Tunde Rahman from the Office of the "President-elect" also confirmed SaharaReporters' exclusive story that Tinubu left for Europe.
While sources said he went for medical treatment, his media office said he was on a working visit.
SaharaReporters had exclusively reported that Tinubu would be returning to France to see his doctors, in preparation for his inauguration on May 29.
"He is returning to France to see his doctors ahead of the stress of the inauguration period so he can prepare for his swearing-in," a top source in the ruling All Progressives Congress had told SaharaReporters.
Presidential poll: 180 witnesses to testify in Atiku, PDP petitions against Tinubu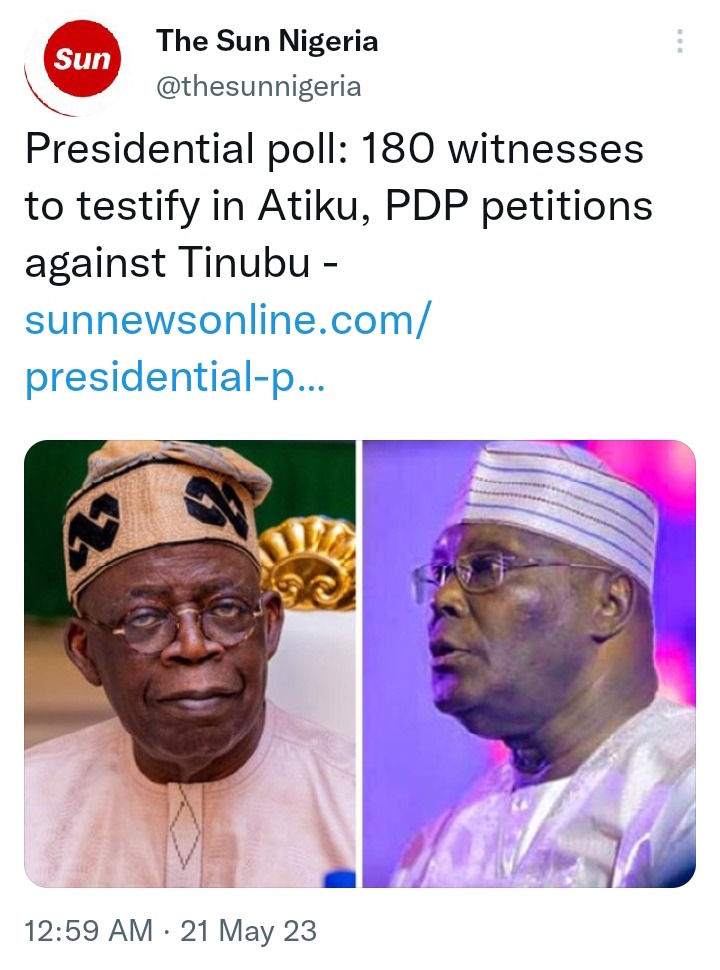 Photo Credit: Sun Nigeria
A total of 180 witnesses have been lined up to testify in the petition filed by former Vice President and candidate of the Peoples Democratic Party, PDP, Alhaji Atiku Abubakar, against the outcome of the presidential election that was held on February 25.
While Atiku has lined up 100 witnesses to prove his case, the Independent National Electoral Commission (INEC) has two witnesses while the President-elect, Bola Tinubu and his party, the All Progressives Congress (APC), have 39 witnesses each to defend their victory.
In all of these, Atiku told the Presidential Election Petition Court (PEPC) that he needed only three weeks to call his witnesses to prove that Tinubu was wrongly returned by INEC as winner of the disputed election.
In their joint petition marked: CA/PEPC/05/2023, Atiku and PDP are urging the court to among other reliefs, withdraw the Certificate of Return that was issued to the president-elect by INEC.
The petitioners maintained that the declaration of Tinubu as the winner of the presidential election was "invalid by reason of non-compliance with the provisions of the Electoral Act, 2022".
They further argued that Tinubu's election was invalid by reason of corrupt practices, insisting that he was not duly elected by a majority of lawful votes cast at the election.
Atiku also prayed the court to declare him the winner of the presidential election, having secured the second-highest number of lawful votes cast at the election.
At the resumed proceedings yesterday, lead counsel to the petitioners, Chief Chris Uche, SAN, disclosed that among the 100 witnesses are experts and others that would be summoned by the court to give evidence.
APC Tackles Tambuwal Over Renaming Of Educational Institutions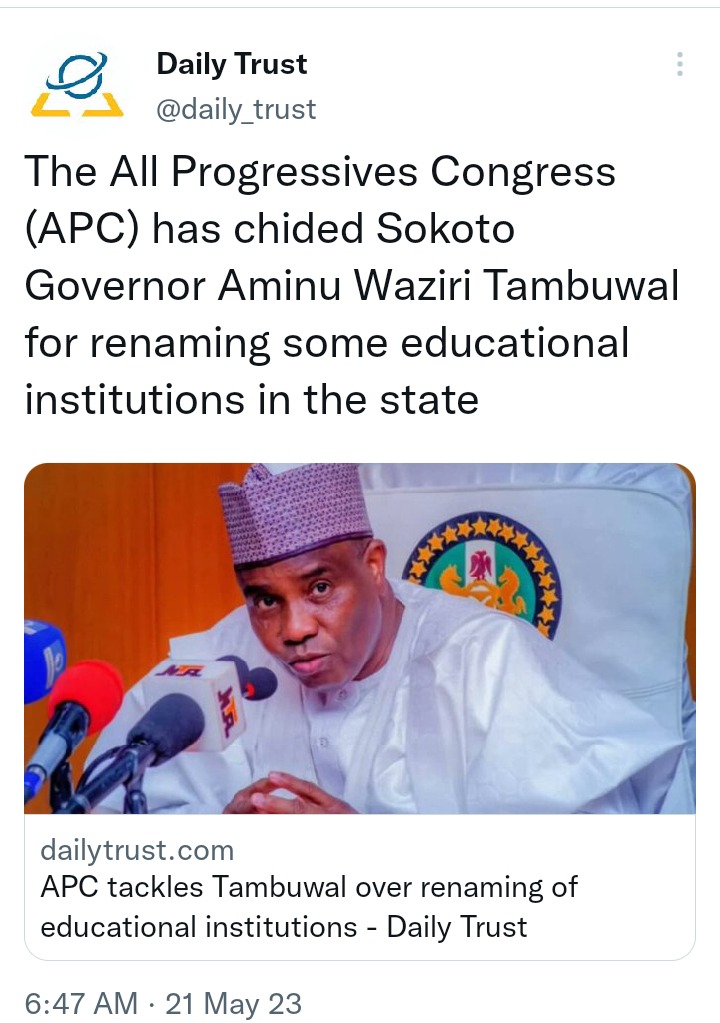 Photo Credit: Dailytrust
The All Progressives Congress (APC) has chided Sokoto Governor Aminu Waziri Tambuwal for renaming some educational institutions in the state.
Daily Trust reported that Tambuwal had renamed some higher institutions in the state, including the Sokoto State University Teaching hospital, which was yet to be completed.
The governor named the hospital after Sultan Muhammad Sa'ad Abubakar while the Shehu Shagari College of Education was renamed after Sultan Ibrahim Dasuki.
Other institutions renamed include the Sokoto State University which was named after the younger brother of Sheikh Usman Bin Fodiyo, Abdullahi Fodiyo among others.
While speaking to journalists Saturday, chairman of the party, Isa Sadiq Achida, described the governor's action as a calculated attempt to create confusion in the state, saying, "Every right-thinking person knows what the governor did was wrong. His motive was to create confusion and problems for the incoming government but he would not succeed."
Achida said apart from the teaching hospital which is still under construction, the rest of the institutions were built by his predecessors.
On whether their government would review the names, he said "only the incoming governor can decide that.
Crownprincess (
)