Today's Headlines: No Minister Under Me Had The Power To Approve Over N25m – OBJ; SERAP Sues Tinubu Over 'Unlawful ban Of 25 Journalists From Covering Presidential Villa'
No Minister Under Me Had The Power To Approve Over N25m–OBJ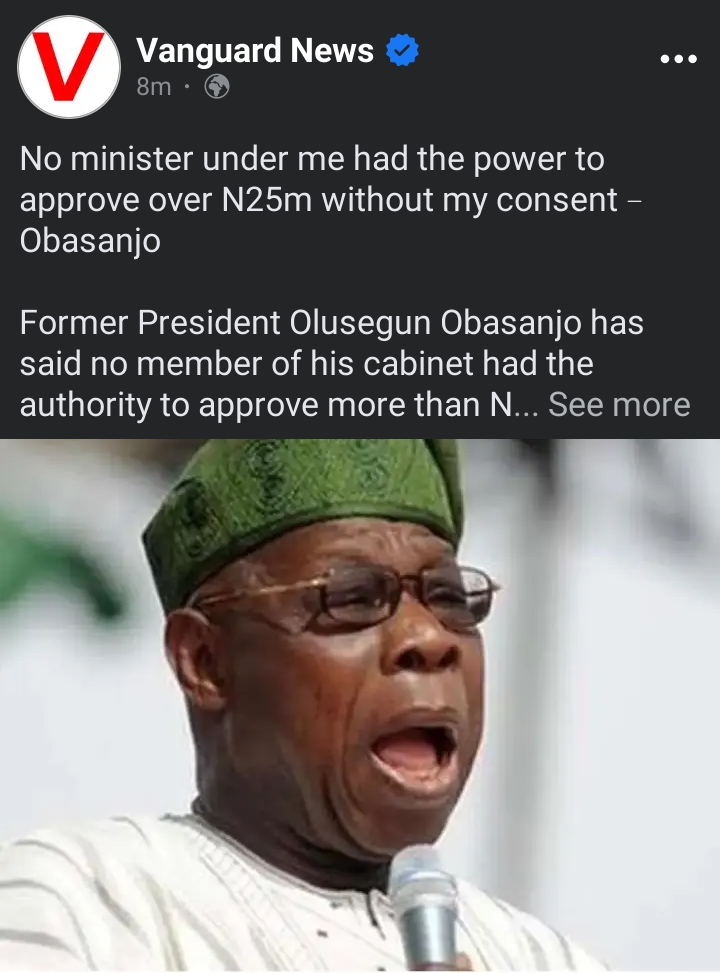 Photo Credit: Vanguard
Former President Olusegun Obasanjo has said no member of his cabinet had the authority to approve more than N25 million without his consent when he was leading the country between 1999 and 2007.
Obasanjo said this in an exclusive interview with TheCable, while challenging the former minister of power and steel, Olu Agunloye, where he got the authority to award $6 billion contract to Sunrise Power and Transmission Ltd in respect of the Mambilla Hydropower Project in 2003.
Sunrise Power is currently in arbitration with Nigeria at the International Chamber of Commerce (ICC), Paris, France, over an alleged breach of contract by the federal government.
In the first arbitration, Sunrise demanded a compensation of $2.3 billion, claiming it had spent millions of dollars on financial and legal consultants before the contract was jettisoned.
SERAP Sues Tinubu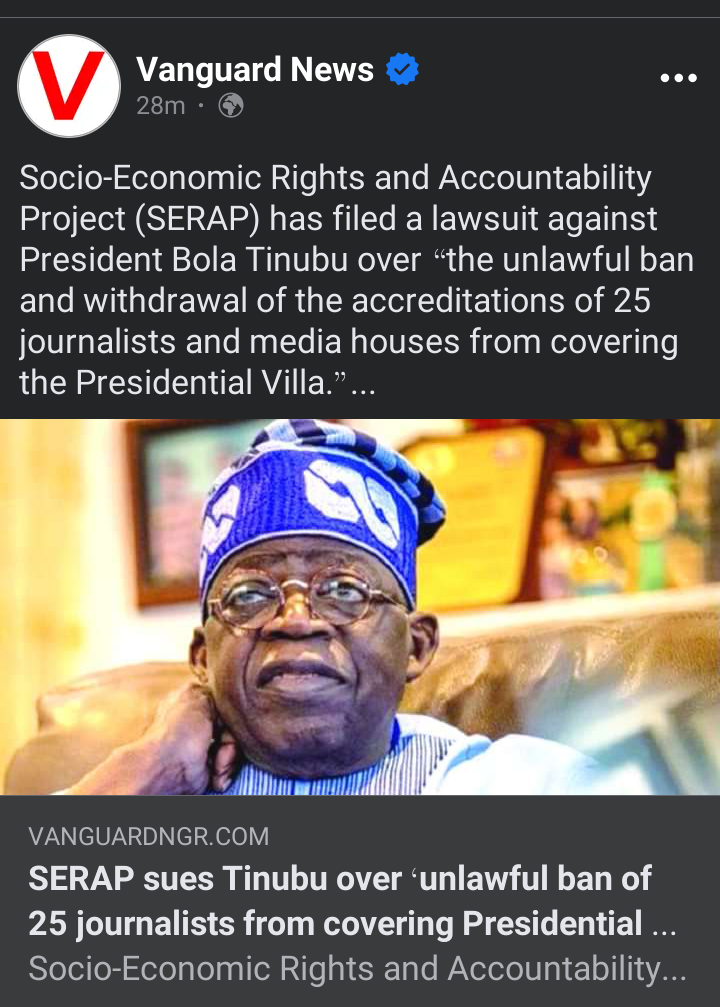 Photo Credit: Vanguard
Socio-Economic Rights and Accountability Project (SERAP) has filed a lawsuit against President Bola Tinubu over "the unlawful ban and withdrawal of the accreditations of 25 journalists and media houses from covering the Presidential Villa."
According to reports, the Federal Government recently withdrew the accreditations of some 25 journalists from covering activities at the Presidential Villa, Abuja. The affected journalists were simply told at the main gate of the Presidential Villa to submit their accreditation tags.
In the suit number FHC/L/CS/1766/23 filed last Friday at the Federal High Court in Lagos, SERAP is seeking: "an order to direct and compel President Tinubu to reverse the revocation of the accreditations and ban on 25 journalists and media houses from covering the Presidential Villa."
There'll Be No Coup In Nigeria, Says Bishop Williams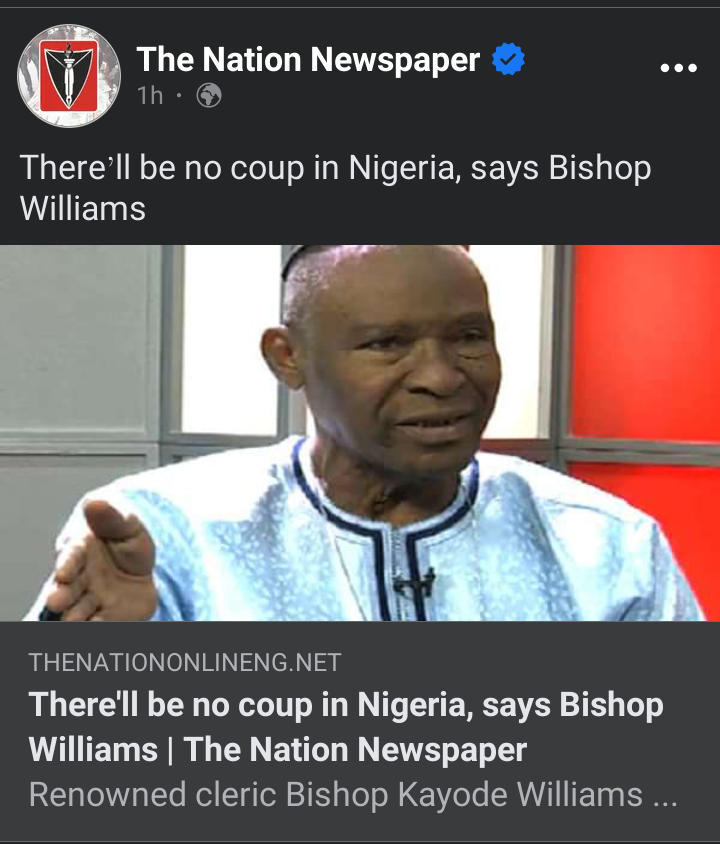 Photo Credit: The Nation
Renowned cleric Bishop Kayode Williams has declared that there would be no coup d'etat in Nigeria, stressing that the strident calls for coup was being mooted by those with a poor sense of history.
Williams, the presiding bishop of Christ Vessels of Grace Church Inc. who spoke with our correspondent on Saturday against the backdrop of the recent takeover of government in Niger and Gabon, both within West and Central Africa by military juntas, said he received divine admonitions that individuals and groups fanning the embers of war and confusion in the country, should desist forthwith in order to attract
No Military Takeover Will Happen In Nigeria But Political Coups – Primate Ayodele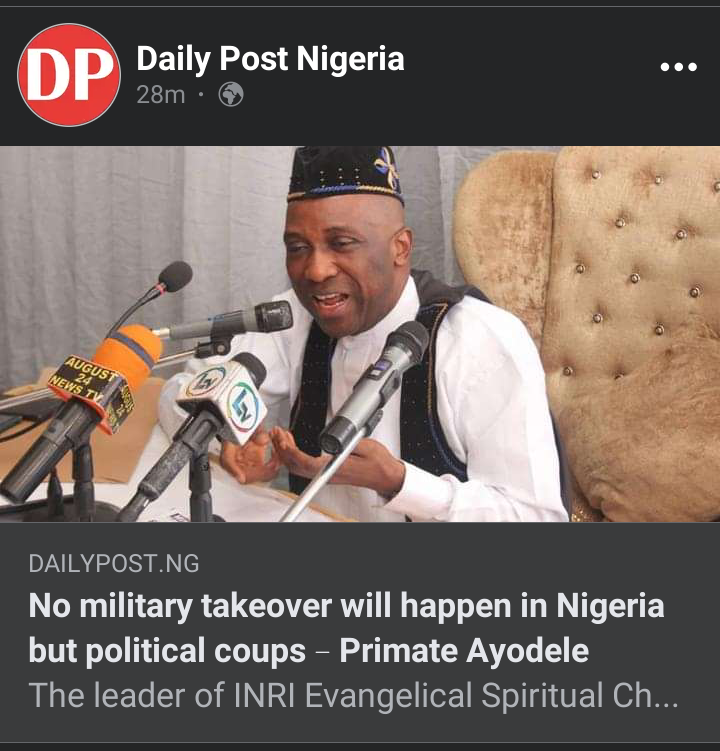 Photo Credit: Daily Post
The leader of INRI Evangelical Spiritual Church, Primate Elijah Ayodele has assured the federal government of Nigeria that there will be no military coup in the country but to expect more political coups.
In a statement signed by his media aide, Osho Oluwatosin, Primate Ayodele explained that any plans for a military coup would fail in the country because God has canceled it.
He stated that till eternity, there will be no record of a military coup but that a revolution is coming.
Ayodele noted that the revolution can be described as a political coup; a situation where people will use their votes to kick out every political officeholder that isn't performing as expected.
PrinceAI (
)