Today's Headlines: Buhari Is Fulfilled Leaving Office—Presidency, Sanwo-Olu Unveils Ikorodu Tech Hub
Buhari Is Fulfilled Leaving Office—Presidency
President Muhammadu Buhari is fulfilled leaving as Nigeria's leader after serving for eight years.
Click to see the Video on Twitter,,,Watch video on Twittter
Source: Channels TV
This is according to presidential aide Garba Shehu who featured on Channels Television's Sunday Politics. He noted that his principal has done his best for the country.
"The President feels fulfilled. He has done exceptionally well as best as he can in the circumstances in which he has found himself. He is satisfied going home for the next president to contribute and build on the foundations he has laid," the presidential aide said.
Sanwo-Olu Unveils Ikorodu Tech Hub
The Lagos State Governor, Mr Babajide Sanwo-Olu, on Friday, inaugurated the Senator Abiru Innovation Lab in the Ikorodu area of the state.
The SAIL is a dedicated innovation and tech lab that is providing relevant technology, business, and digital skills to tech enthusiasts and young entrepreneurs across the Lagos East Senatorial District, which is located in the Ebute area of Ikorodu, Lagos State.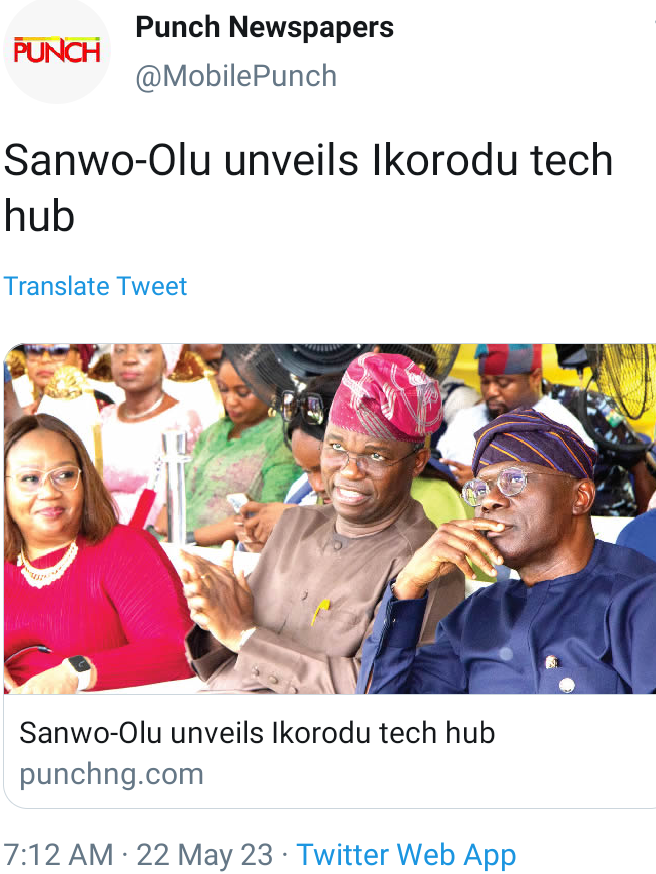 Source: Punch paper
The lab is a private endowment project initiated in 2021 by Senator Mukhail Abiru and his wife, Mrs Feyisola Abiru, and is being operated in partnership with Co-creation Hub.
Unveiling the project on Friday, Sanwo-Olu described the SAIL as a "game changer" that would amplify the narrative of technological evolution in Lagos.
Muslim Students Petition FG Over Lewd, Sexual Contents In School Textbooks
The Muslim Students' Society of Nigeria (MSSN) B-Zone says it is appalled by the content in some Mathematics, English and Social Science textbooks used in many Nigerian secondary schools today.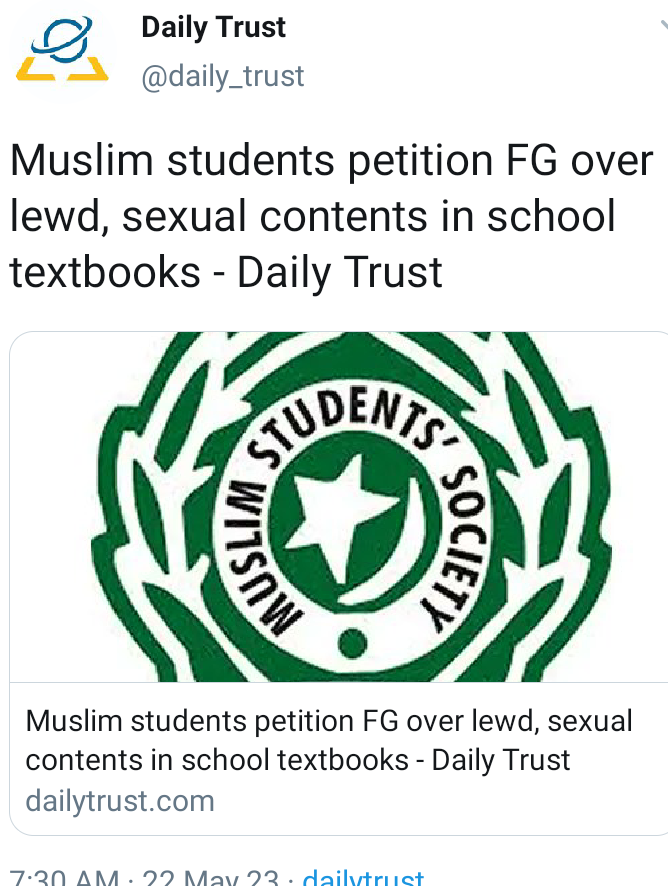 Source: Daily Trust
The group, in a letter to the Minister of Education, Adamu Adamu, said these textbooks had been corrupted to include lewd and sexually explicit matters "in order to sexualize young students."
The letter, titled 'Inclusion of Sex and Homosexuality in Nigerian Primary and Secondary School Textbooks: A Threat to Morality and Attack on Cultural/Religious Values', was signed by the group's coordinator, Qaasim Odedeji and General-Secretary, Abdul Jalil Abdur Razaq and dated 15th May.
It noted that a typical Mathematics question for primary school pupils was "20 condoms+5 condoms-2 condoms equals".
Buhari Congratulates CAN's Longest Serving Secretary, Daramola
President Muhammadu Buhari has rejoiced with outgoing Secretary General of Christian Association of Nigeria (CAN), Joseph Bade Daramola, for his service to God and humanity over a long period in leadership of the religious body.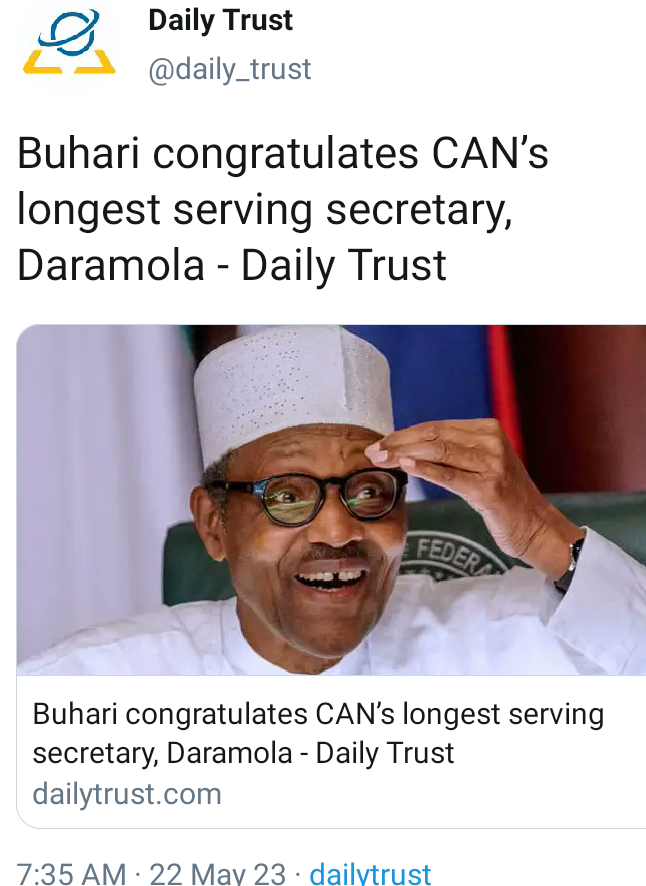 Source: Daily Trust
The president, in a statement Sunday by his spokesman, Femi Adesina, felicitated with Daramola for the empathy, simplicity and humility he brought to various positions as Assistant Secretary General, Interim Secretary General and Secretary General, becoming the longest serving principal officer, for upward of eleven years.
Buhari said he remained mindful and thankful for the maturity that placed national unity and peaceful co-existence above other interests, and the regular wise counsels ss the National Executive Council of CAN celebrated the outgoing Secretary General.
Onaiyekan, Emir Of Argungu Ask Tinubu To Continue With Census
The Archbishop of the Catholic Diocese of Abuja, Cardinal John Onaiyekan and the Emir of Argungu, Alhaji Muhammad Samaila Mera, have urged President-elect Bola Ahmad Tinubu to continue with the Housing and Population Census initiated by the outgoing administration.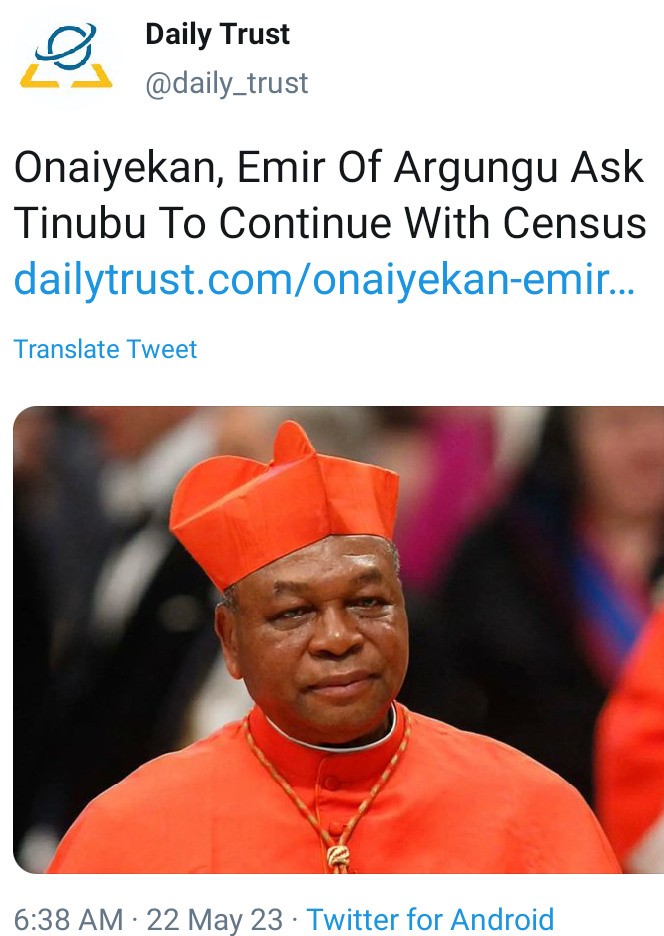 Source: Daily Trust
They spoke in Abuja during a round table engagement with traditional and interfaith leaders on improving human capital development through girl-child education.
Onaiyekan said: "Census should be a regular thing and should be done properly. The only thing is that the time fixed for the census was bad timing and I think President Muhammadu Buhari did well to postpone it. So, the incoming administration should make sure it is done properly as plans have already started and have continued.
"Our country has always been reluctant in reflecting religion in our census. I am one of those who believe that religion is an important aspect of our life in this country, and to do a census without reflecting it means we are closing our eyes to an important reality. If it reflects tribe and place of birth, it should reflect religion."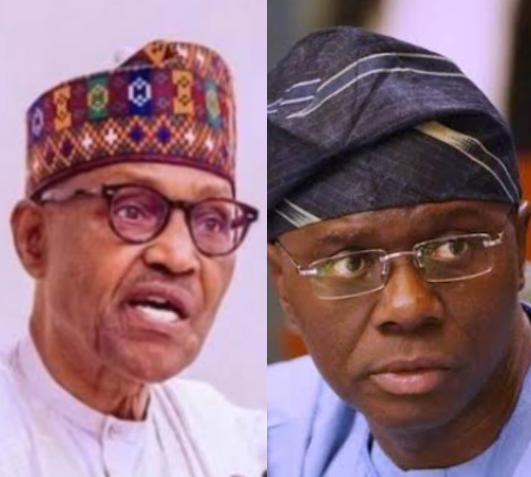 Photos Credits: Google
WaterGo (
)