Today's Headlines: Biden's Delegation To Tinubu's Inauguration; Tinubu will Sustain Tempo Of My Govt—Buhari
Biden's Delegation To Tinubu's Inauguration
Vice President Joe Biden has announced the members of his delegation attending Bola Tinubu's inauguration.
Click to see the Video on Twitter,,,Watch video on Twittter
Sixty-five foreign leaders, including several heads of state, have reportedly been invited to attend Tinubu's inauguration, as reported by the PUNCH.
On May 29 at Eagle Square in Abuja, Nigeria's 16th president, a former governor of Lagos State, will take office.
At the seventh transition ceremony, not only will notable Nigerians and representatives from foreign countries and agencies be present, but also former presidents, ambassadors, and heads of international organizations.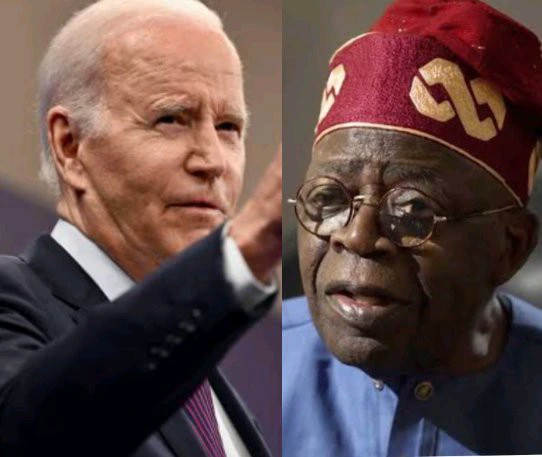 Tinubu'll Sustain Tempo Of My Govt—Buhari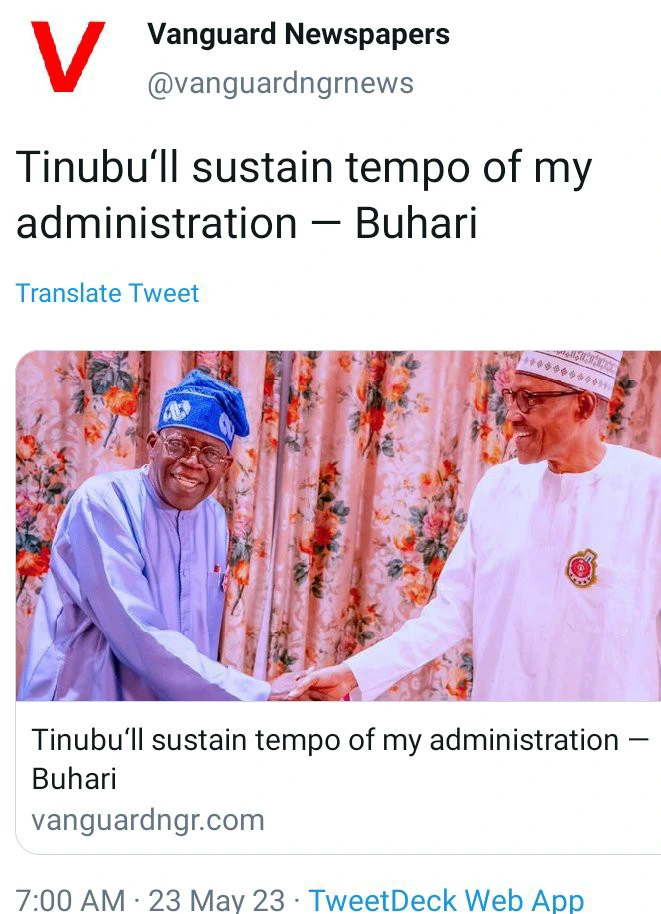 President Muhammadu Buhari expressed confidence in the ability of the new government led by Asiwaju Bola Tinubu to maintain the momentum of the current administration yesterday.
At the Naval Dockyard Limited on Victoria Island in Lagos, where the Presidential Fleet Review 2023 was held, Buhari expressed satisfaction with the military's readiness for battle.
He expressed confidence that the incoming president, Bola Tinubu, will maintain the great trajectory established for the Nigerian Navy under his leadership.
Presidential Poll: Why tribunal rejected live coverage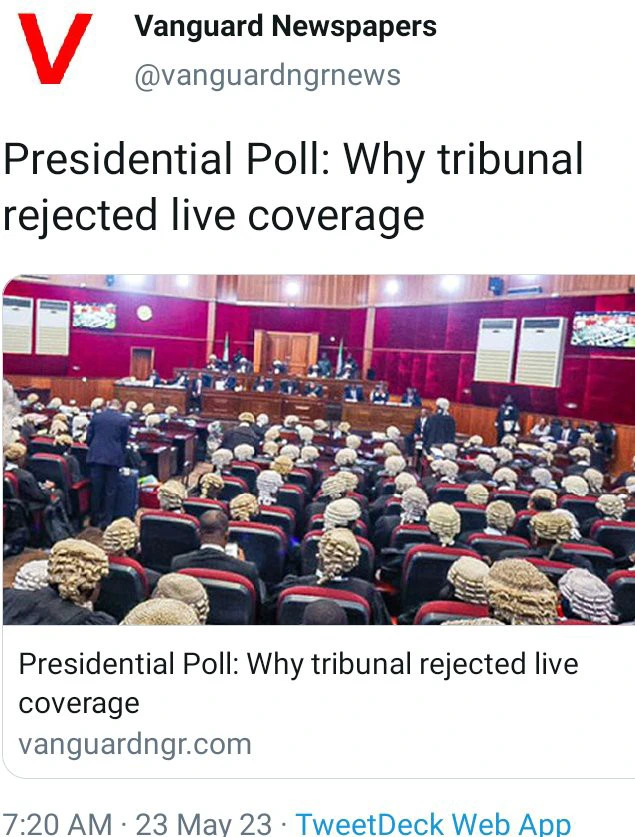 The Presidential Election Petitions Court (PEPC) in Abuja, Nigeria, recently denied a request to broadcast its regular sessions on petitions seeking to overturn the results of the presidential election held on February 25, 2023.
The Peoples Democratic Party's (PDP) Alhaji Atiku Abubakar and the Labour Party's (LP) Mr. Peter Obi appealed, but a five-member panel led by Justice Haruna Tsammani ruled against them.
Since allowing cameras in the courtroom is a key judicial policy that must be supported by law, the court ruled that it was not authorized to accept such an application by any regulatory framework or policy direction.
Dangote refinery will generate 12,000 megawatts electricity – CBN Gov Emefiele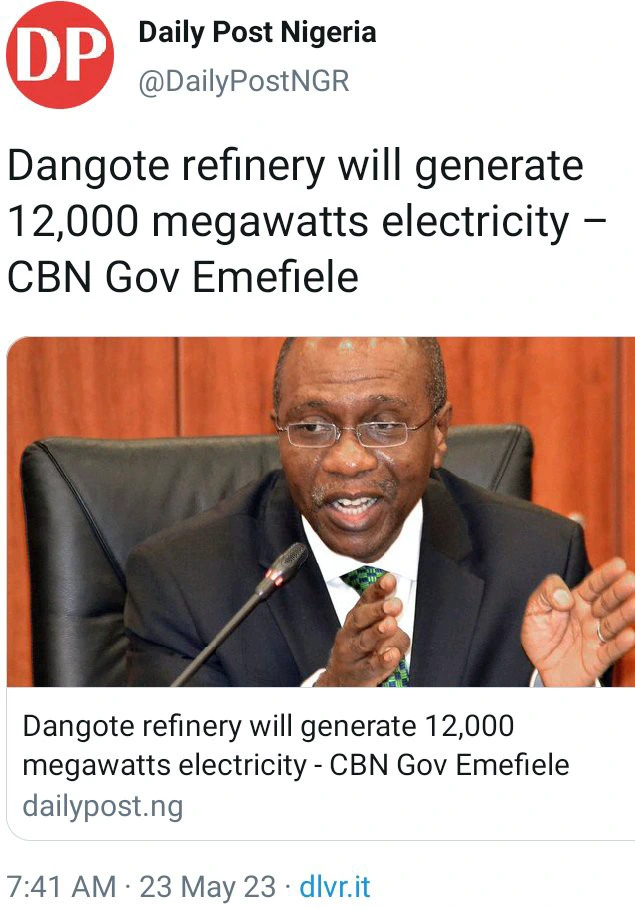 Nigeria's Central Bank Governor Godwin Emefiele has stated that the newly opened Dangote Petroleum Refinery and Petrochemicals will aid in the country's efforts to increase electricity generation.
At the commissioning on Monday in Lagos State, Emefiele declared that the Dangote Refinery would have the capacity to produce 12,000 MW of electricity.
Furthermore, he claimed that once operations commence, approximately 135,000 permanent employment will be made accessible to Nigerians.
It is estimated that the refinery will save Nigeria $25 billion to $30 billion a year in foreign currency.
He said that the annual revenue to the country's economy from the refinery will be $10 billion.
According to Emefiele, the Dangote Refinery proves that Nigeria has the capacity to meet all of its domestic demand.
EmmysteveWrites (
)