Today's Headlines: 100 days in Office: Tinubu's on the right track, Nigerians soon reap benefits of his reforms — Mr. Zaccheus Adedeji, Stop harassing Isese adherents, Wole Soyinka urges Muslims
100 days in Office: Tinubu's on the right track, Nigerians soon reap benefits of his reforms — Adedeji
Special Adviser to the President on Revenue, Mr. Zaccheus Adedeji, in this interview, discusses how the President Bola Tinubu Administration is working to raise the country's revenue profile, ensure sustainable financing and ongoing reforms that would positively transform the nation's economic fortunes.
Source: Vanguard
For this government, it is not simply about the present moment or what the President has done within the short term of being in office, it is more about the medium to long term. We are laying the foundation for a prosperous future. You will agree with me that even though the foundation is the most important structure of a building, it is not always the prettiest.
Once the house begins to take shape, the beauty will not only be apparent for all to see, but it will also provide shelter to shield the occupants from unfavorable external conditions. We have done a lot that I am proud of within this short period, these include addressing some critical concerns of the private sector regarding pressing tax issues, removal of wasteful subsidy on petrol to create fiscal headroom and limit excessive borrowing, and forex reforms to address market distortions. So, I can say that we are on track and moving in the right direction.
Stop harassing Isese adherents, Soyinka urges Muslims
Nobel laureate, Professor Wole Soyinka, has said nothing will diminish the Isese tradition, adding that it has come to stay.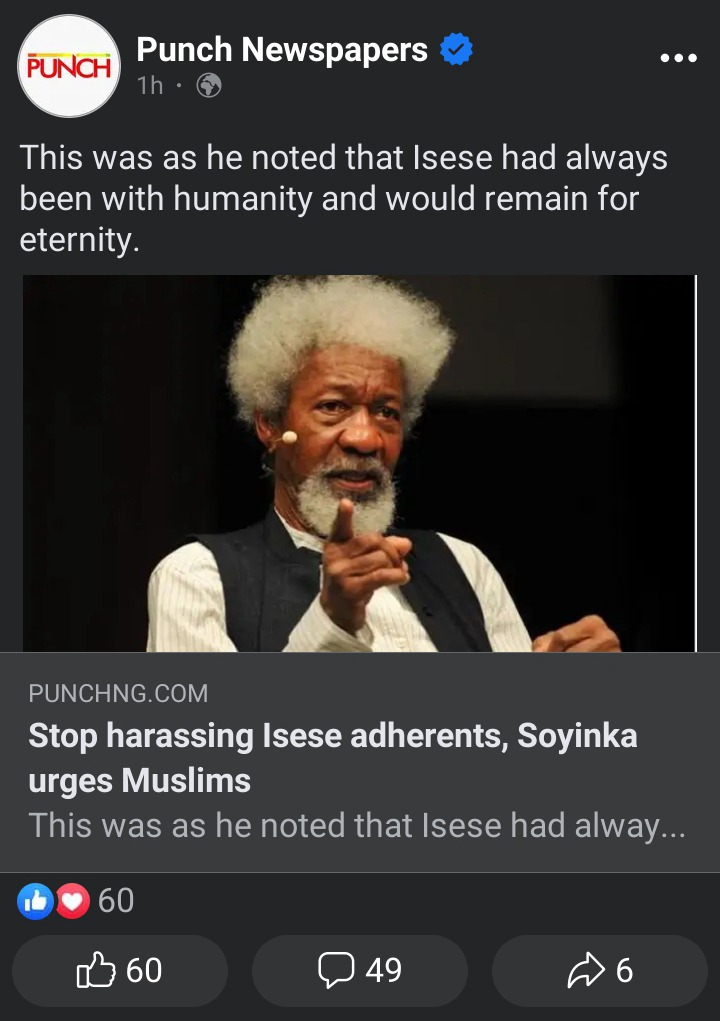 Source: Punch papers
This was as he noted that Isese had always been with humanity and would remain for eternity. He made this known on Friday during a public exchange held at the Kongi's Harvest Art Gallery, Freedom Way, Lagos State.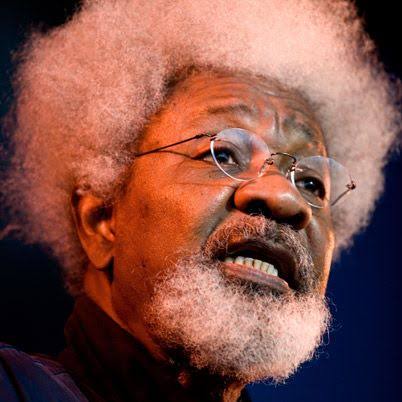 Isese Day, which was celebrated in states in the South-West, had been a subject of controversy, especially in Ilorin, Kwara State, where an Osun priestess, Yeye Ajesikemi Olatunji, who had planned to celebrate the day on August 20, was verbally attacked and asked by the Emir of Ilorin, Ibrahim Kolapo Gambari Dan, and other Muslim adherents not to commemorate the day.
EU grants Nigeria €440,000 to boost research
The move by the Tertiary Education Trust Fund to attract major international research grants to Nigerian scholars has received a massive boost as the European Union has committed to providing 440,000 euros to support shortlisted research teams in the country under the Horizon Europe Project.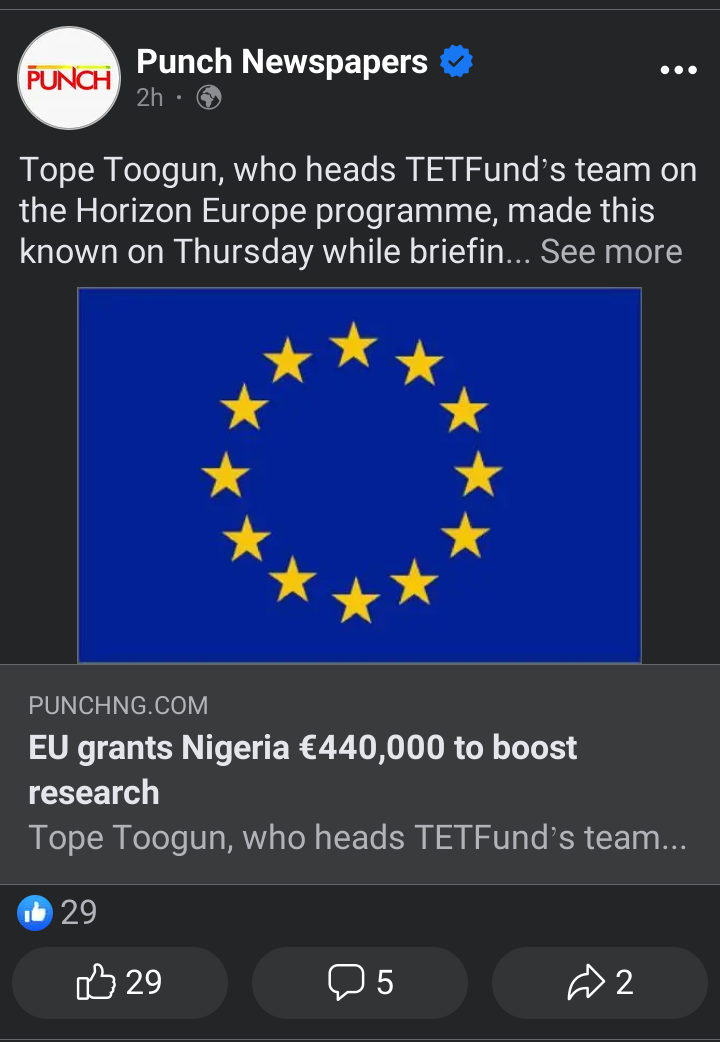 Source: Punch papers
Tope Toogun, who heads TETFund's team on Horizon Europe, made this known on Thursday while briefing the Executive Secretary of TETFund, Sunny Echono, on ongoing efforts to ensure Nigerian researchers' participation in the globally renowned research project, according to a statement released on Friday in Abuja.
He lamented that despite the rich human resources in the country, researchers in Nigeria had before now taken the back seat in accessing grants for the EU Horizon project. "It is embarrassing that Nigeria with all our intellectual capital, cannot participate in Horizon. The EU works in terms of a seven-year framework, the current one is Horizon Europe, the previous framework was called Horizon 2020 and it ran from 2013 to 2020.
Awoniyi eyes Chelsea's scalp
Nigerian striker Taiwo Awoniyi will be eyeing another goal when Nottingham Forest faces Chelsea on Saturday (today) at Stamford Bridge.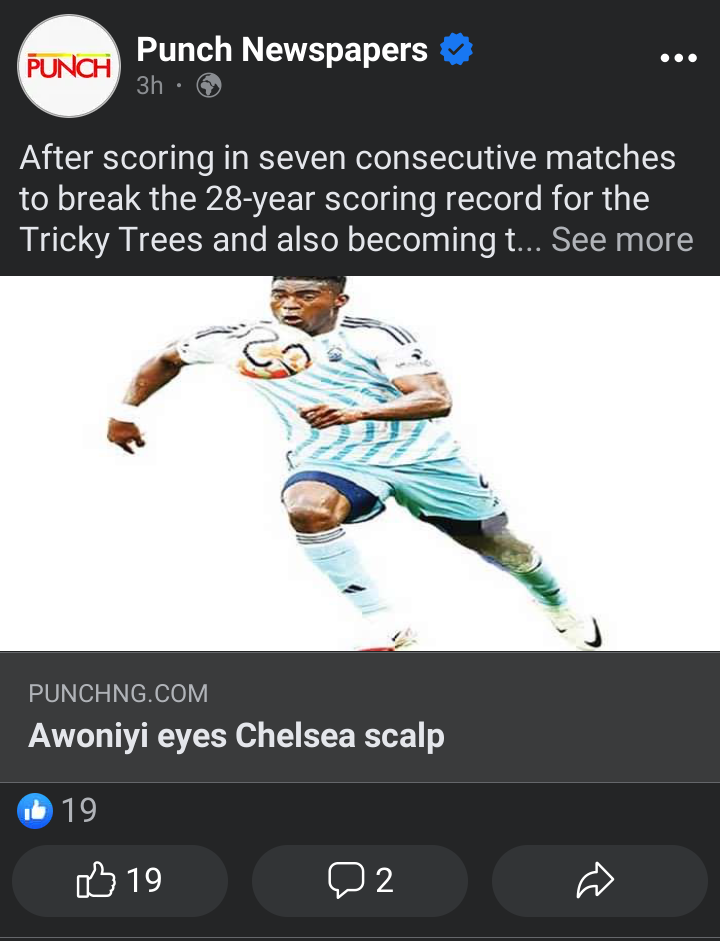 Source: Punch papers
After scoring in seven consecutive matches to break the 28-year scoring record for the Tricky Trees and also becoming the third African player (joint-level with Mohamed Salah and Emmanuel Adebayor) to score in seven successive PL games, the match against Chelsea presents an opportunity for him to score in an eighth straight match.
The Blues will be even more wary of the big Super Eagles striker thanks to his two-goal man-of-the-match performance against them the last time they met last season. After seven straight wins in all competitions against Forest, Chelsea failed to beat them in two meetings upon their return to the Premier League after more than two decades.
Bash760 (
)