Today Headline: Tinubu'll Be Inaugurated In Grand Style Natives Tell NLC; Insecurity Gave Me Sleepless Nights When I was President – GEJ
Tinubu 'll be inaugurated in grand style, Natives tell NLC, others
Click to see the Video on Twitter,,,Watch video on Twittter
Photo Credit: The Nation Nigeria
A pro-democracy and anti-sabotage organisation, The Natives, has expressed optimism that the inauguration of Asiwaju Bola Ahmed Tinubu as the 16th President will hold in grand style on Monday, May 29 as planned.
The group was reacting to Joe Ajaero-led Nigeria Labour Congress (NLC) threat to scuttle the inauguration of the new administration during the last Labour Day when it came hard on the Independent National Electoral Commission (INEC), accusing it of conducting flawed general elections.
But in a statement on Sunday in Abuja, the Supreme Leader of the Natives, Hon. Smart Edwards, warned any plan to scuttle the inauguration would fall flat.
According to Edward: "Nigeria is not a jungle where there is no law and order. Tinubu will be inaugurated in a grand style contrary to all the threats."
The Natives are an amalgam of different ethnic groups, cultures, Languages and tribes across Nigeria with over twenty million members nationwide.
The Supreme leader of the Natives said NLC has lost credibility to speak for all Nigerians since it chose to be partisan in the last general election.
"Tinubu is not a novice and also not an accidental politician, he is an accomplished political icon, a strategist and an asset to Nation's democracy, economy and global development.
"Bola Ahmed Tinubu will be inaugurated in grand style as the 16th President of Nigeria.
"The Natives are already rolling out the drums as Nigeria prepares to witness the first opposition leader turned National Leader and elected as the 16th President of Nigeria. A Comrade, a June 12 advocate, a Senator, a Governor, a negotiator of political power with all past and incumbent Presidents in Nigeria, a builder of men, mentor and supporter of the Labour movement."
Jonathan: Insecurity gave me sleepless nights when I was president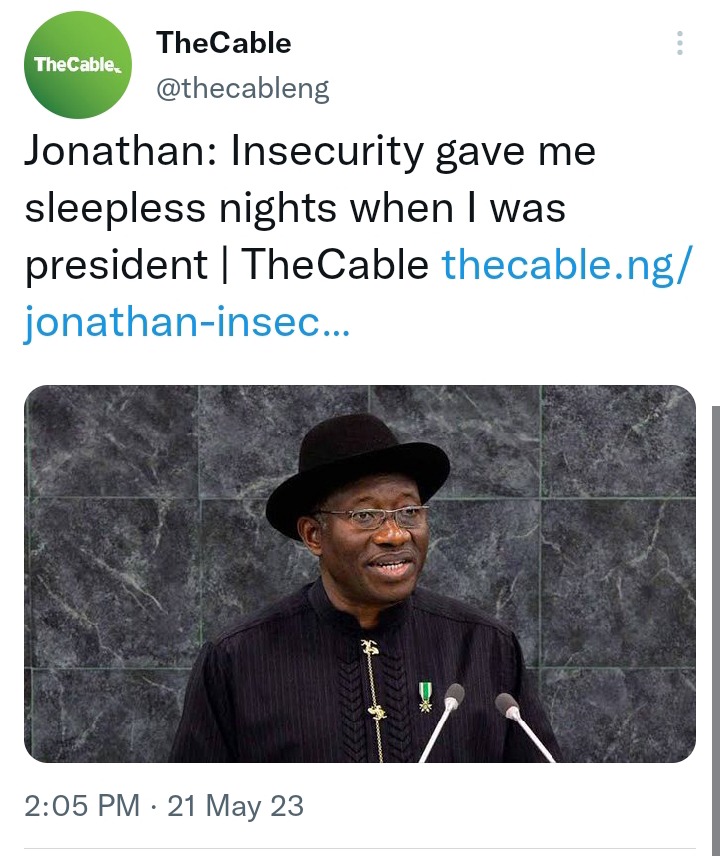 Photo Credit: The Cable
Former President Goodluck Jonathan says insecurity gave him sleepless nights during his tenure as president of Nigeria.
He spoke on Friday during the official opening of a 22-kilometre road project in Taraba state.
"When I was the president of Nigeria, the insecurity of the nation did give me sleepless nights. Sometimes even while I am in the church, my ADC will bring a phone to show me how people are being attacked somewhere. It gave me sleepless nights," he said.
Jonathan, however, expressed pleasure that Taraba was gradually returning to the "good old days" of peaceful coexistence and tolerance.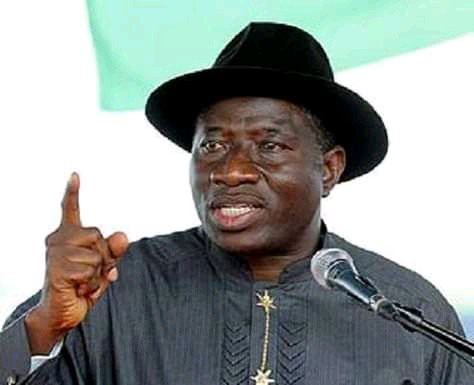 Photo Credit: Google
"When the security of a place is much better, I'm always appreciative. This is happening because the people of Taraba have decided to live in peace."
During Jonathan's tenure as president, Boko Haram had wreaked havoc in Nigeria, killing hundreds of Nigerians and displacing others, especially in the north-east.
Meanwhile, in his remark, Darius Ishaku, governor of Taraba, said the road projects by his administration were designed to link rural communities to the metropolis.
Explosion Rocks Sokoto, Northwest Nigeria, Four Persons Confirmed Dead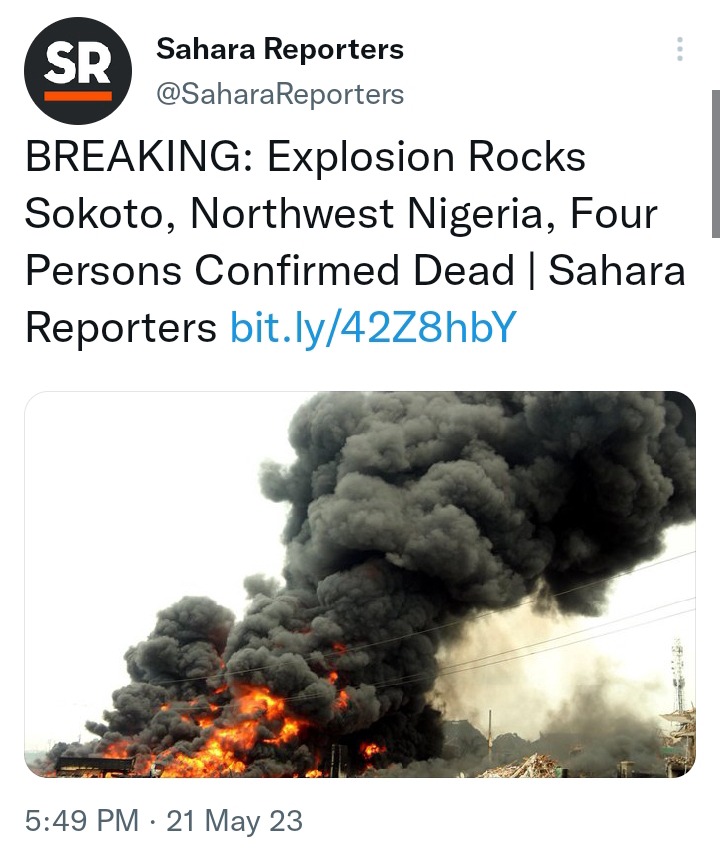 Photo Credit: Sahara Reporters
No fewer than four persons have been confirmed dead in an explosion in Sokoto state, Northwest Nigeria.
Local sources said the explosion happened on Sunday afternoon at a welder's shop in the Isa Local Government Area of the state.
It was gathered that several persons were injured in the explosion.
One of the sources said, "When I heard the loud explosion, what came to my mind was that bandits were on a rampage.
"It was when I saw people running towards the welder's shop where the explosion occurred that my mind was at rest that it wasn't bandits that struck.
"Upon enquiry, I was told that the explosion was from a welder's shop and there were casualties and several others injured."
Tinubu stands by those fighting battles for him, trusts supporters – Fani-Kayode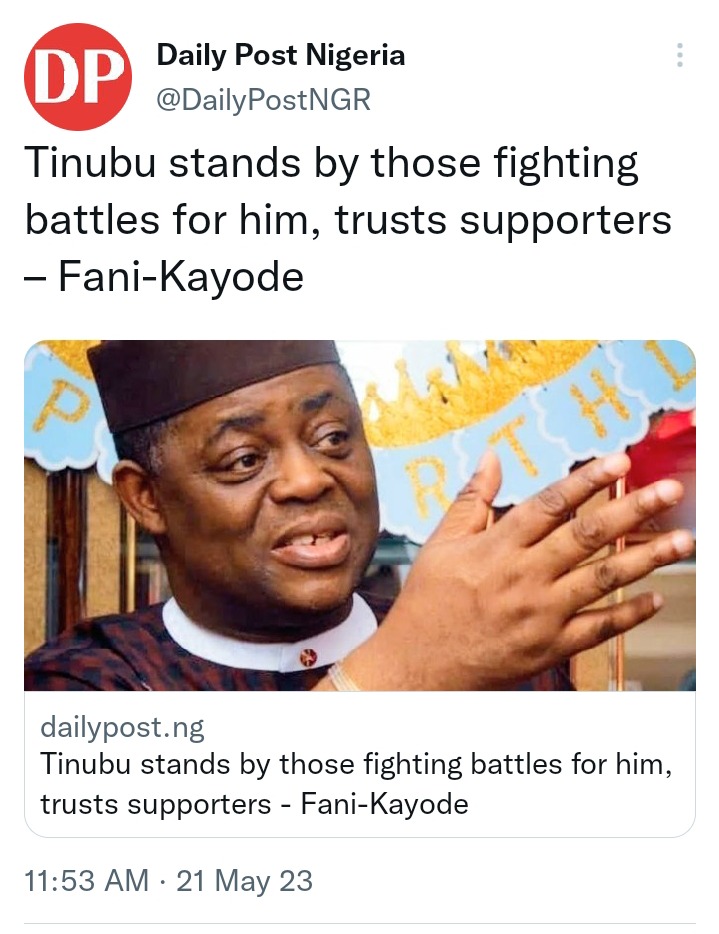 Photo Credit: Dailypost
A chieftain of the All Progressives Congress, APC, Femi Fani-Kayode has dismissed the claims that the President-elect, Bola Tinubu cannot be trusted by his supporters.
Fani-Kayode said Tinubu appreciates the virtues of loyalty and courage while under fire.
In a tweet, Fani-Kayode: "The notion that our President-elect cannot be trusted by his supporters & is not faithful to his own is absurd.
No-one appreciates the virtues of loyalty & courage under fire & stands by those that have fought for & entered the heat of battle with him more than @officialABAT."
Crownprincess (
)