Tinubu Was The One Who Rescued Lalong From Obasanjo's Gulag – Sam Omatseye
In a post on his verified Twitter account, popular Nigerian novelist, Sam Omatseye, alleged that the President-elect, Bola Ahmed Tinubu was the one who rescued Lalong from former President Olusegun Obasanjo's gulag. He stated that Lalong had spent forty days in Olusegun Obasanjo's gulag, and it was the President-elect Bola Ahmed Tinubu, then the governor of Lagos State, who had taken the burden on himself to rescue Lalong from Obasanjo's gulag.
He alleged Tinubu and Obasanjo has not been in terms since that incident. However, Omatseye strongly believes that the rival between former President Olusegun Obasanjo and the President-elect, Bola Ahmed Tinubu has it traced to that incident.
Click to see the Video on Twitter,,,Watch video on Twittter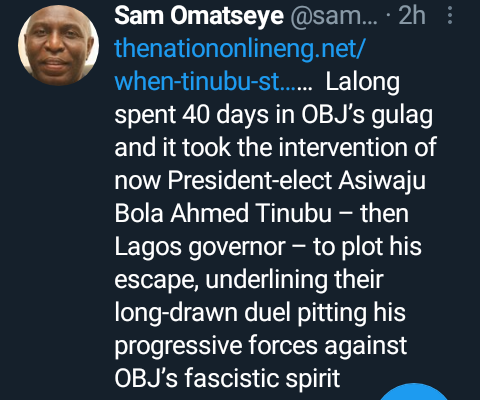 He said, "Lalong spent 40 days in OBJ's gulag, and it took the intervention of now President-elect Asiwaju Bola Ahmed Tinubu then Lagos governor to plot his escape, underlining their long-drawn duel pitting his progressive forces against Olusegun Obasanjo's fascistic spirit."
what is your take on this matter?
Vincent73 (
)