'Release Nnamdi Kanu To Me Before May 29' Governor Soludo writes to President Buhari
In a letter to President Muhammadu Buhari, Governor Chukwuma Soludo pleaded for the release of Nnamdi Kanu, the leader of the Indigenous People of Biafra.
The letter dated April 20, 2023, is titled 'Passionate Appeal For The Urgent Release Of Mazi' and is copied to the President-elect, Bola Tinubu, and the Minister of Justice and Attorney General of the Federation, Abubakar Malami.
Click to see the Video on Twitter,,,Watch video on Twittter
In the letter, Governor Soludo pleaded with Buhari to release the separatist leader to him personally before he passes over power to Tinubu on May 29. He added that he could guarantee Kanu would appear in court when required.
Soludo commended the Buhari administration for awarding amnesty to "repentant" Boko Haram terrorists in northeast Nigeria and argued that it was now time to extend the same leniency to Kanu.
He stated that if Kanu's unconditional release is not possible, he should be granted compassionate administrative parole.
He wrote, "In light of the preceding, I humbly request that Mr. President contemplate the immediate and unconditional release of Mazi Nnamdi Kanu, as requested by the United Nations Human Rights Council and the Federal High Court.
"This is the proper action for a nation that should uphold the principles of the rule of law and abide by the international laws and conventions to which Nigeria is a signatory.
"Alternatively, if there are persistent reasons that make his unconditional release untenable, Mr. President may contemplate granting him administrative bail on compassionate grounds and as part of the national healing process/creating an atmosphere conducive to a political solution.
"Under the circumstances, I am willing to release him on bond. My government is willing to provide him with alternative, secure housing in Awka, where he will have access to, among other things, appropriate medical care, and make him available when necessary. This will help defuse tensions in the Southeast and pave the way for progress-oriented, constructive discussions.
"We commend your efforts in the North East, particularly your decision to grant repentant Boko Haram members amnesty and rehabilitation. I am confident that you can still accomplish something historic during your remaining days in office, as the South East beckons.
"Mr President, I am available at your earliest convenience (if necessary) to discuss any or all of the prayers listed above. God has been merciful to you throughout your entire existence, but particularly over the past eight years.
"As you shepherd a transition process to pass over to your successor, you might as well assist in easing his takeoff by resolving lingering issues such as the detention of Mazi Kanu. I respectfully request that you, as a statesman, perform a historic act of mercy and release Nnamdi Kanu prior to your handover on May 29, 2023."
According to Soludo, Kanu's imprisonment has exacerbated Southeast insecurity.
He bemoaned the fact that Kanu had received two favourable court decisions ordering his release.
He stated, "However, up until now and for nearly two years, the trial has been delayed and dragged out in the courts with no resolution in sight.
"Without delving into the merits of his case, it is germane to note that Mazi Kanu has received two court rulings ordering his release from detention. According to my knowledge, the federal government has also obtained a stay of execution for one of these rulings and is appealing the same.
"One of the court orders for his release has not been challenged and/or is still in effect. In July 2022, the United Nations Human Rights Council issued a statement urging the Federal Government to unconditionally liberate him.
"In the interim, the continued detention of Mazi Kanu has created, for lack of a better term, systemic insecurity in the South East." Some supporters of Mazi Kanu have imposed the obnoxious and harmful "Sit-at-Home" order every Monday in the South East, while various criminal organisations (kidnappers, bandits, armed robbers, etc.) now pose as "freedom fighters" or those fighting for Mazi Kanu's release.
"The human cost in terms of lives lost and socioeconomic hardship, as well as the difficulties faced by our security personnel, are matters for another day." Since I took office as Anambra's governor, we've been battling these criminals head-on in collaboration with the security agencies.
"While we have accomplished great success in Anambra, some businesses remain closed on Mondays, and movement is restricted due to fear and anxiety. We believe, paradoxically, that there is still much work to be done. Mazi Kanu could become part of the long-term solution."
The governor demanded the unconditional liberation of the detained IPOB leader in January.
Governor Soludo stated that he was willing to stand as Kanu's surety if the Nigerian government was unable to release him unconditionally.
According to him, Kanu was required at the roundtable discussion to discuss Southeast insecurity.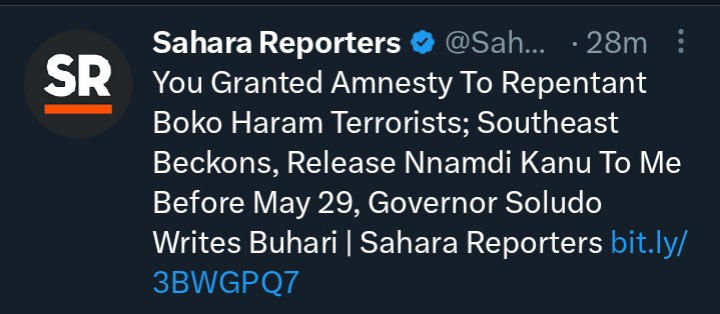 Teejanyy (
)