Premier League Table Ahead Of Wednesday Game As Man City Face Brighton
Brighton vs Man City
With two Premier League games left, Brighton, who upset their destined south coast rivals Southampton 3-1, soared to earn their first-ever place in European play for the 2023–24 season. Evan Ferguson contributed a crucial double to the victory. The UEFA Europa League will undoubtedly be the European tournament with just one more point, but Aston Villa's wings won't be clipped at this stage until Brighton suffers two losses and the goal differential significantly changes.
Click to see the Video on Twitter,,,Watch video on Twittter
Roberto De Zerbi's team may be inspired to further triumph at home after a great ten-game home PL record that includes seven wins, one draw, and two losses, but playing treble-chasing Manchester City is enough to strike fear into the hearts of any team. Although they have alternated between victories and losses during their last five games of the season, winning three and losing two, Brighton has actually lost every single head-to-head Premier League match since their promotion.
Nottingham Forest defeated Arsenal 1-0 on Saturday to guarantee their survival, but maybe more importantly, it also confirmed City's third straight Premier League victory. Pep Guardiola is hoping to establish himself as one of the greatest managers of all time with the aid of an unexpected triple. Before the FA Cup and Champions League finals, there are still two Premier League games to play. Man City's last home game was a 1-0 victory over Chelsea, and now the only thing left to play for is four points to finish as the top away team in the Premier League. But getting those points is not guaranteed.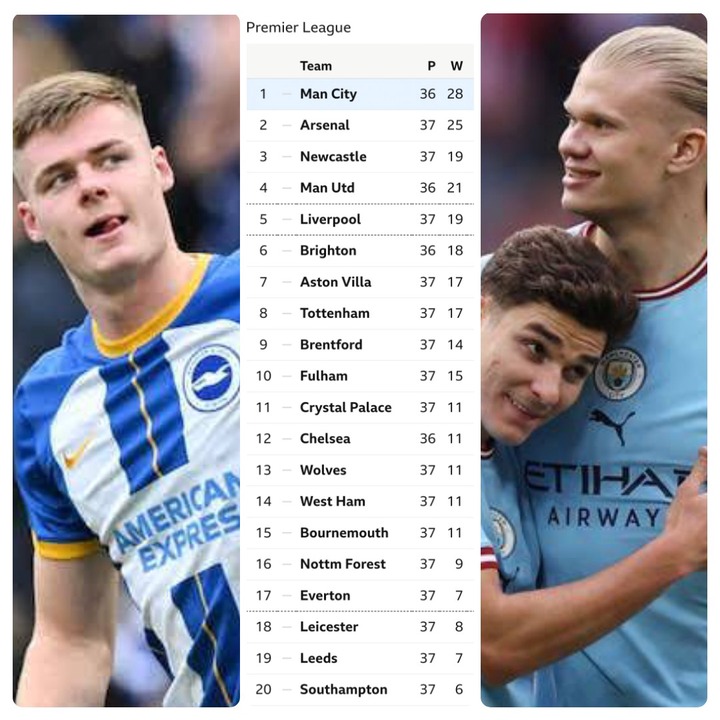 Resourceful (
)