Peter Obi Celebrate Elder Statesman Edwin Clark As He Clocks 96th Today
Peter Obi On his Verified Twitter Account Has Wished The Statesman,Chief Edwin Clark A Happy Birthday as He celebrate his ninety sixth birthday today.
Chief Edwin Has been a great figure in Nigeria and has accomplished good deeds in his states and Peter Obi has come out to celebrate him due to the respect he has for Edwin.
Click to see the Video on Twitter,,,Watch video on Twittter
Edwin Clark is a politician and nationalist from Delta State, Nigeria. He was born on May 25, 1927. From 1966 till 1975, this influential Ijaw man worked for the administrations of military governor Samuel Ogbemudia and president General Yakubu Gowon.
As he celebrate his birthday we pray and hope that he enjoys the rest of his life without been ill and may the Lord bless his hand work in Nigeria.
What are your thoughts on this and you can leave a comment wishing him a birthday.
Thanks for reading and stay tuned for more news on politics.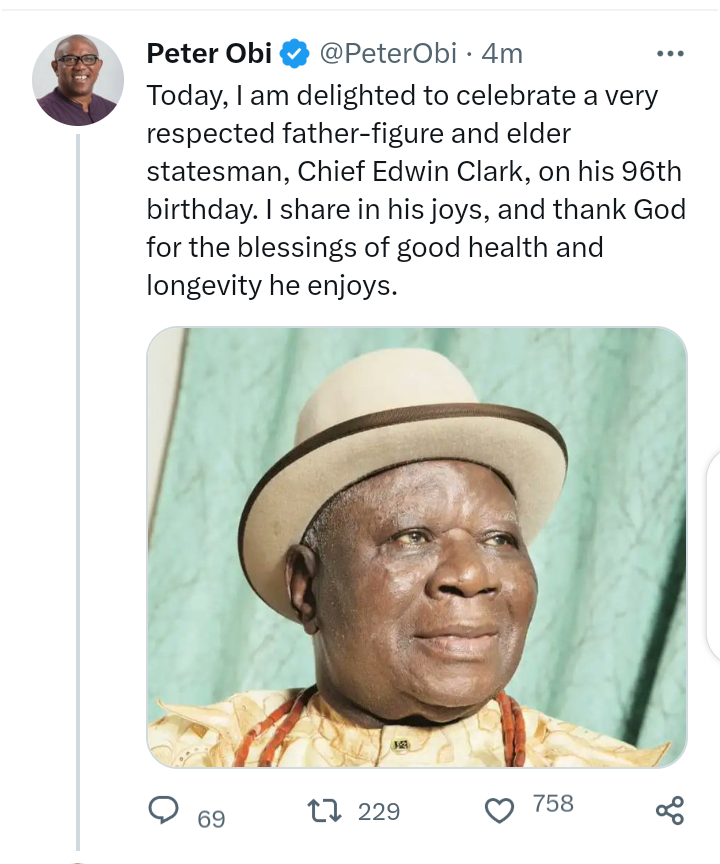 YunexCrib (
)