PEPT: We Pray and hope that the Supreme Court Judges will not bend the law -Archbishop Lucius Ugorji
In anticipation of the legal challenges from political parties such as the People's Democratic Party (PDP) and Labour Party (LP) regarding the 2023 general election, the Catholic Bishops Conference of Nigeria (CBCN) has urged the Supreme Court to prioritize upholding the law rather than catering to the interests of any particular party.
They expressed dissatisfaction with the Presidential Election Petition Court's (PEPC) decision regarding the electronic transmission of election results, particularly considering the substantial financial resources invested in the Bimodal Voter Accreditation System (BIVAS) and Result Viewing Portal (ReV). Archbishop Lucius Ugorji, the President of CBCN, conveyed his aspiration for a future in Nigeria where election outcomes are ultimately determined at the polling stations, rather than being subject to prolonged legal battles.
According to Archbishop Lucius Ugorji, he said;
"We pray and hope that the Supreme Court Judges will neither bend the law nor seek to satisfy the whims and caprices of any party. We also pray and hope for a day in our nation when all election results will be finally decided at the polling units and not at the Court".
At the onset of the 2023 Second Plenary Assembly of the CBCN, Archbishop Lucius Ugorji emphasized the need for the Supreme Court to uphold the law impartially, without succumbing to the demands of any political entity. He criticized the PEPC's ruling on the electronic transmission of results, given the significant financial investment in technologies like BIVAS and ReV. Archbishop Ugorji also voiced a vision for a more transparent electoral process in Nigeria, where final decisions on election results are reached at the polling units, reducing the reliance on protracted legal proceedings.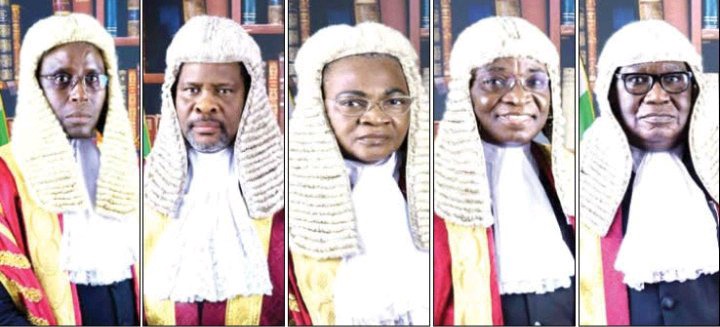 As the 2023 Second Plenary Assembly of the CBCN commenced, Archbishop Lucius Ugorji underscored the importance of the Supreme Court maintaining a commitment to the rule of law, free from partisan influences. He expressed disappointment in the PEPC's stance on electronic result transmission, given the substantial expenditure on technologies like BIVAS and ReV. Additionally, Archbishop Ugorji articulated a hope for a future in Nigeria where polling units become the definitive arbiter of election outcomes, reducing the need for extended courtroom battles.
Quoted (
)
Related