Now that he has finished his official visit, I dare him to release the photos of the meetings- Bwala
About two weeks ago, it was reported that the president-elect, Chief Asiwaju Bola Ahmed Tinubu, was traveling to Paris, France, for some official meetings as this was made known by one of the spokespersons of the All Progressives Congress, APC.
Click to see the Video on Twitter,,,Watch video on Twittter
After the plan of his traveling was made public, the Sahara Reporters and Mr Daniel Bwala, who happens to be one of the official spokespersons to Atiku Abubakar, during the 2023 presidential election, claimed that, Asiwaju Bola Ahmed Tinubu, did not travel to Paris for official meetings as claimed but, went because of his health. They claimed he travelled outside of the country for medical treatment.
However, yesterday, it was announced that the President-elect, came back to the country from his official meetings and while Mr Daniel Bwala, was reacting to this development on his official Twitter handle, he urged Tinubu to drop photos that were taken during his official meetings in Paris as claimed.
He said, if they release the photos, the foreign investors would turn out to be Nigerian politicians and lobbyists.
He said, "Now that he has finished his so-called official visit to meet with investors etc.I dare them to release the photos of those meetings. I bet you if they release the photos, the foreign investors would turn out to be Nigerian politicians and Nigerian lobbyists from Nigeria."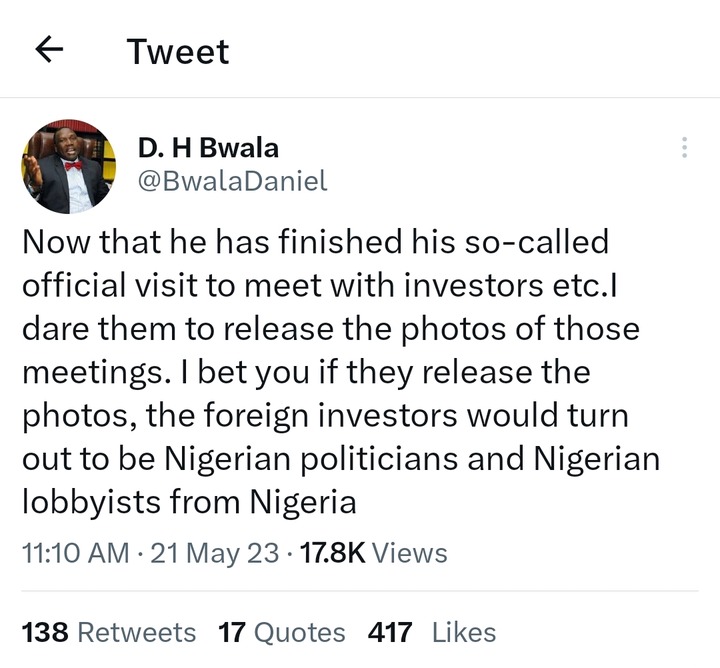 Moses21 (
)