Labour Party asks DSS to question Arabambi about the death threat claims
Abayomi Arabambi, the embattled former national publicity secretary of the Labour Party and spokesman of the Lamidi Apapa faction, has been invited by the Nigeria Police and Department of State Security following allegations that LP presidential candidate Peter Obi was after his life.
Arabambi had accused Kennedy Ahanotu, the National Youth Leader of the party, of sending him threatening messages prior to last Wednesday's assault on Apapa outside the court premises.
Click to see the Video on Twitter,,,Watch video on Twittter
According to The Punch, some abrasive supporters believed to be loyal to National Chairman Julius Abure resisted journalists' attempts to interview the Apapa-led faction.
The group waited to obstruct Apapa's interview while booing and chanting "Ole" (thief).
To prevent anarchy, the police had to repel the determined protestors who pursued him and attempted to prevent him from entering his vehicle and leaving the scene.
Arabambi insisted that the assault could not have taken place without Obi's alleged collusion and knowledge.
Apapa, who accused Obi and Abure of dispatching the thugs who assaulted and humiliated him at the tribunal, corroborated his claim.
The factional chairman, who appeared on Arise TV on Thursday, bemoaned receiving the menacing message threatening to "deal with him" if he appeared in court.
"One of the parties sent a text message stating that if I showed up, they would deal with me, and they actually carried out that text. "Consequently, I accuse Peter Obi and Aburi of committing the crime," he stated.
In a joint statement issued in Abuja by Ahanotu and Alhaji Umar Farouk, National Secretary of the LP, the party described the accusation as "ridiculous."
In addition, they threatened to petition the DSS and police authorities to interrogate him.
The statement read, "We are proceeding to make a formal report to the Nigerian Police and other security agencies regarding the grievous nature of these anti-democratic elements' attempt to suppress democracy. The Labour Party demands that Arabambi provide evidence and facts indicating that Ahanotu was instructed to visit him violently.
"We are challenging him to make public the conversation he had with our National Youth Leader in order to establish that our leaders posed a threat to his life. We view such baseless attempts to defame our principal and our national youth leader as the final strike on a horse on its deathbed. Arabambi must be reminded that individuals who collect ant-infested firewood invite reptiles into their dwellings.
"We wish to reaffirm that neither His Excellency Peter Obi nor any other Labour Party member has or will ever plan to influence or incite such a response from Nigerians who are already aware that Apapa, Arabambi, and their cohorts have been heavily compromised in order to thwart the proceedings in the Tribunal.
"He is renowned for being the only governor in Nigeria without a bulletproof vehicle. Anyone who imagines, suggests, or even considers associating him with violent acts has gone too far, and this must be addressed."
When informed of LP's petition to the DSS, Arabambi appeared unfazed and stated that he has no fear of anyone.
The spokesman disclosed that he is in possession of evidence, some of which has been published in print media.
He stated, "I intend to hold a comprehensive press conference on the matter. Permit me to reiterate, however, that my life was last threatened in court. Kennedy Ahanotu informed me text message that if I show up, I will be severely punished. I am still in possession of the message. And we were treated. We were comprehensively defeated in Peter Obi's presence.
"Ahanotu stated that Obi did not like me, and I am not a Labour Party member. Can you imagine? The tenant is challenging the landlord. I am informing you that Obi was present when they dealt with us. You may have also heard the acting national chairman say on television that Obi issued the order.
"Even after the incident, Obi did not allow me to make contact because he claimed not to know us. A tenant claiming to be unfamiliar with his landlord? When exactly did he join the Labour Party? Obi cannot be a tenant and simultaneously challenge us from his master chamber. It cannot function. As I speak with you, I have received over 15 menacing phone calls from individuals I do not know. I have already reported to the IGP. I listed all of their phone numbers and placed an ad in the newspapers about the threat to my life.
"I am also using this occasion to request that the DSS and Police place Obi and Abure under house arrest for plotting to thwart Asiwaju's inauguration. I want security personnel to begin monitoring the Labour Party secretariat for suspicious activity on May 26. We've heard that they are recruiting criminals. This exemplifies democracy. Nobody must be permitted to disrupt it."
Although Arabambi disclosed that some of his party loyalists provided him with the intelligence, our correspondent was unable to independently confirm the claim.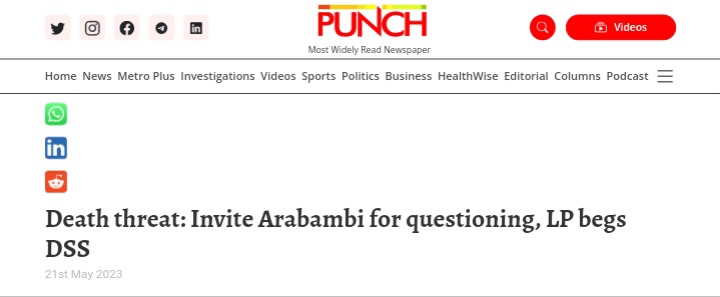 Teejanyy (
)