Kogi CP Says Nigerians Should Thank God Seun Kuti Didn't End Up In Third Mainland Bridge Waters
The Kogi State Police Commissioner, CP Hakeem Adeshina Yusuf, has issued a death threat in response to a comment on the Nigeria Police's arrest of Afrobeat singer Seun Kuti.
This was evident in the police commissioner's Facebook comment on Monday morning, in response to a user who had shared a relevant post by former presidential adviser Reno Omokri.
Click to see the Video on Twitter,,,Watch video on Twittter
On Monday, Seun Kuti was detained and placed in handcuffs following his visit to the state police command after a video of him striking a police officer in Lagos went viral. The police continued to detain him while frantically searching for evidence to convict him of another crime.
The week prior, SaharaReporters reported that police searched Seun Kuti's home and attempted to search his vehicle. In addition, they attempted to obtain a blood sample from him in order to conduct a drug test, but this attempt failed when the doctors insisted that they would not remove his blood sample without his consent.
The musician maintained his word that he would cooperate with the police by turning himself in to assist with the investigation into the allegation that he assaulted a police officer, as shown in a viral video.
Reno Omokri responded to the incident by describing the situation as institutional bias on the part of the Nigeria Police Force towards the music star, claiming that all of Seun's punishments proved that the police had been malicious in their management of his case.
"When Yunusa Ari, the Adamawa State Resident Electoral Commissioner, vanished, did the police enter his home? Even after Seun Kuti surrendered to the police, they arrested him, paraded him as a common criminal, and conducted a home search. All because he struck a police officer, which is a minor offense at worst. This appears to be malice. This appears to be institutional bias," Reno had said.
Adekunle Adeyemi Taofeek uploaded a screenshot of Reno's post to Facebook. In response, CP Hakeem Adeshina Yusuf stated that Seun's detention was fair because his body was not being searched for in a river or other body of water after he allegedly struck a police officer.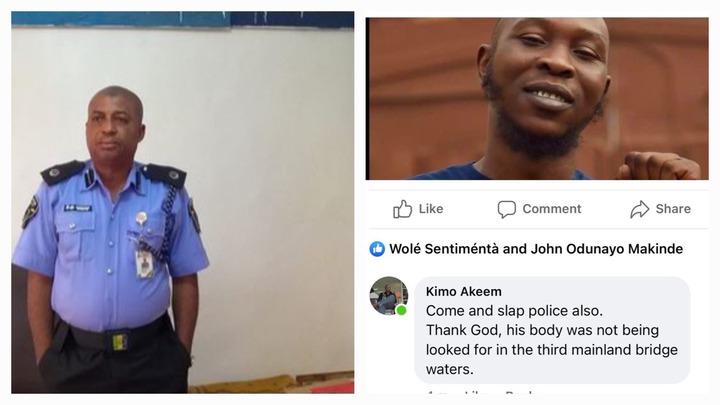 Come and strike the police as well. The waters beneath the third mainland bridge were not searched for his corpse, as the police commissioner stated.
A Twitter user, @Scotty_Aluta, interpreted the police commissioner's remark as proof that Nigerians are never secure when interacting with security personnel.
He stated, "This is coming from a full-fledged police commissioner! This is precisely what @RealSeunKuti avoided by striking the officer! People who are tasked with protecting us cannot assure our safety! The CP of @Princemoye @PoliceNG @YeleSowore Akeem Adeshina The remarks of Yusuf pose a hazard."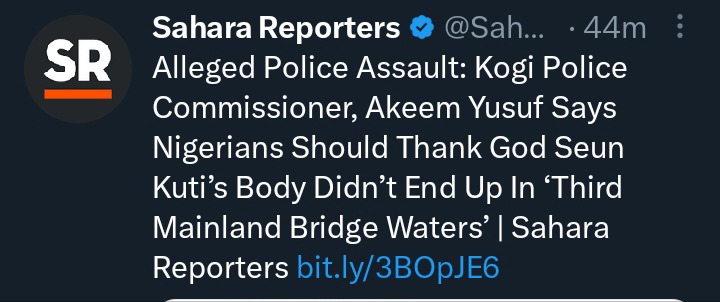 Teejanyy (
)