Julius Abure is the Labour Party National Chairman that I know, I know no one else-Joe Ajaero
Joe Ajaero, the President of the Nigeria Labour Congress (NLC), recently addressed the media on various topics concerning the Labour Party and Nigeria's economy. During the conversation, he was questioned about his perspective on Lamidi Apampa's role within the Labour Party.
Click to see the Video on Twitter,,,Watch video on Twittter
Ajaero responded by affirming his recognition of Julius Abure as the sole National Chairman of the Labour Party. He emphasized that he is unaware of anyone else holding that position, including Lamidi Apampa. Ajaero explicitly stated, "The Labour Party National Chairman that I acknowledge is Julius Abure; I am not familiar with any other individual."
Regarding Lamidi Apampa's alleged status as the National Chairman, Ajaero firmly denied it, asserting that if Apampa chose to disregard the rules and regulations of the LP and NLC, he would bear the consequences alone. Ajaero made it clear that Apampa cannot forcefully impose himself on the party, expressing his conviction that such actions will not be tolerated.
Furthermore, Ajaero emphasized that even if the court were to suspend Julius Abure, it would be the responsibility of the LP to select his replacement. He dismissed the notion of someone emerging out of the blue and claiming to be the National Chairman of the party, stressing that the decision lies with the LP and not an external entity.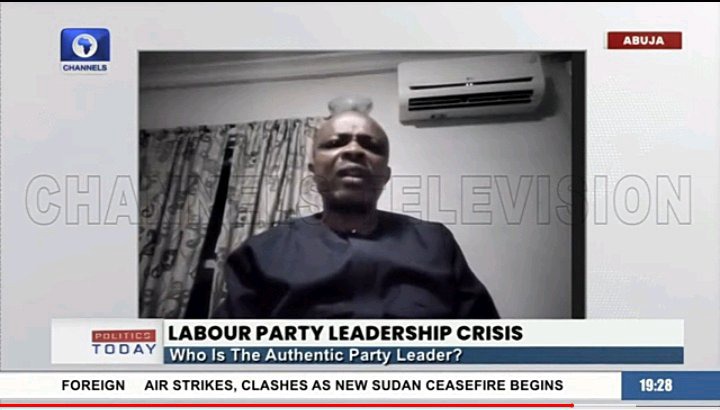 According to Joe Ajaero, he said Julius Abure is the only National Chairman of the Labour Party that he knows, he knows no other person other than Julius Abure, and he doesn't know Lamidi Apampa as the National Chairman of the Labour Party. In his words, "Julius Abure is the Labour Party National Chairman that I know, I know no one else."
Chibabyval (
)