It Will Be An INEC Announced Winner Rather Than A President Who Was Voted By Nigerians- Okonkwo
Atiku Abubakar of the PDP and Peter Obi of the Labour Party are suing Bola Ahmed Tinubu over the outcome after the Independent National Electoral Commission (INEC) named him the winner of the 2023 presidential election. Peter Obi's lawyer, Kenneth Okonkwo, recently shared a link to a piece he authored for The Sun newspaper in which he talked extensively about the 2023 Presidential Election and its fallout.
Click to see the Video on Twitter,,,Watch video on Twittter
According to Kenneth Okonkwo, Tinubu's failure to garner a minimum of 25% of the vote in Abuja was the reason he fell short of meeting the constitutional requirements in the FCT. He claimed that purposeful violations of election rules, the constitution, and INEC policies were made to subvert the will of the people. According to Kenneth Okonkwo, history has demonstrated that people will not support a government in its administration if it does not derive its power from their desires.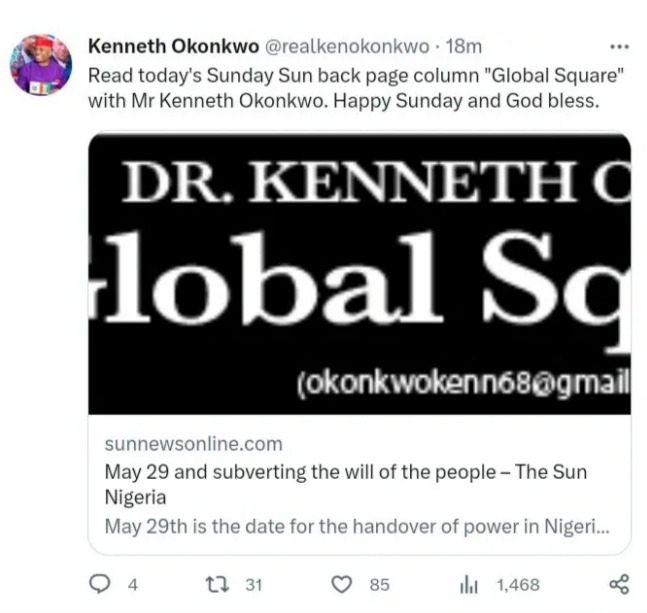 To show Nigerians how this happened, Kenneth Okonkwo calls on INEC to present proof that Tinubu won the poll and was proclaimed the winner in his defence.
Me1234? (
)