I Didn't Show The Empty Seats In Burna Boy's Concert To Pass A Negative Narrative – Samclef
Musician, Samclef took to his Instagram page to share a video where he addressed bloggers and Netizens who claim he showed the empty seats in Burna Boy's Afro Nation concert in other to pass a message that Burna Boy's concert wasn't sold out.
Click to see the Video on Twitter,,,Watch video on Twittter
He said he went to the concert to enjoy himself and to watch his brother perform. The ticket given to him was a VIP ticket, so he had to sit down in a VIP seat. When he went to seat at the VIP seat, he saw a place that is not crowded so he sat there, putting on his face mask so people won't recognize him. He added that he didn't show the empty seats to pass any negative narrative.
He said the time he made that video, Burna Boy was not yet on stage. Music was just playing in the background while everyone was waiting for the artist. 
He warned that bloggers should stop using him to pass negative narrative. They have been doing it before but this time he is not going to ignore it. 
Samclef said a win for one is a win for all. Why should he hate on his brother?. If Burna Boy's concert wasn't sold out what difference does it make as he has already made a big impact in Afrobeat's progress, just like every other artists.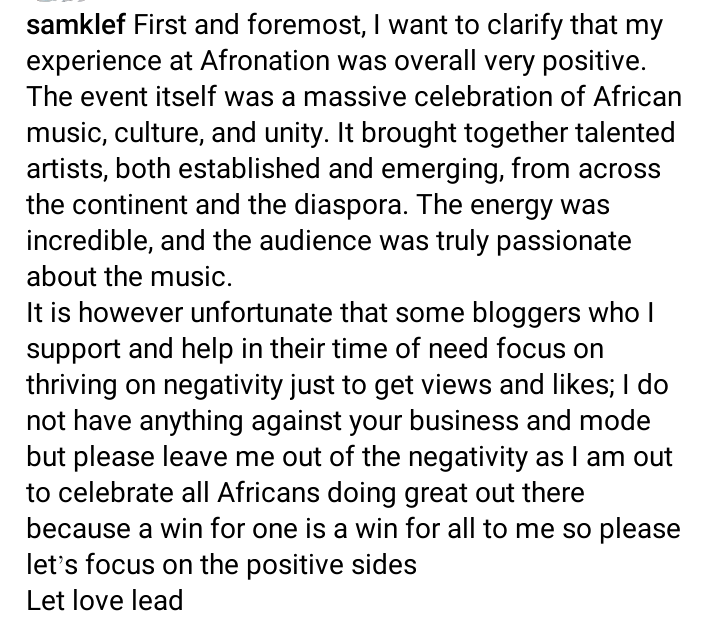 You can watch the video here
LoveDoc (
)