Fuel Subsidy: Reactions As Fayose Says Tinubu Is Trying To Stabilise Nigeria
According to PUNCH, former Ekiti State Governor Ayodele Fayose stated on Wednesday that President Bola Ahmed Tinubu is simply attempting to stabilise Nigeria following the alleged devastation done by the previous administration.
Click to see the Video on Twitter,,,Watch video on Twittter
He also called Tinubu's announced subsidy elimination plan "the best and wisest decision."
Recall that less than 24 hours after Tinubu declared the end of fuel subsidies, the pump price of Premium Motor Spirit, also known as petrol, surged to N600 per litre in various parts of the country from N195 per litre.
The development also resulted in a 100% increase in transportation charges, as well as queues at petrol stations in Lagos, Abuja, Ilorin, Benin, Asaba, Port Harcourt, Kano, Makurdi, and other major cities and urban regions.
However, in response to the elimination of fuel subsidies on his Twitter account on Wednesday, Fayose stated that Tinubu genuinely cared about Nigerians.
He said, "I am convinced that President Tinubu has made the best and most prudent decision for Nigeria and its people.
"He never hid the subsidy; he promised to remove it. Most notably, the previous administration technically eliminated fuel subsidies by not including them in the 2023 budget.
"I implore Nigerians to bear with the administration for the time being, as the current hardship will pass. The removal of the fuel subsidy is the best option, and it must be done once and for all.
"Unfortunately, the subsidy regime has only benefited a few people in the oil industry, and Nigeria must finally break this chain. President Tinubu, without a doubt, is not a money-making magician. He can only use his experience and intellect to strategically reorient the country, which he has begun.
"Many governments have come and paid lip service to all of these issues; now is the time to sustain our country by making decisions that may appear harsh but will return the country to the path of progress.
"The NLC and all interested parties, particularly ordinary Nigerians, should recognise that the previous administration caused more harm than good and that the new government can only seek ways and means to stabilise the country."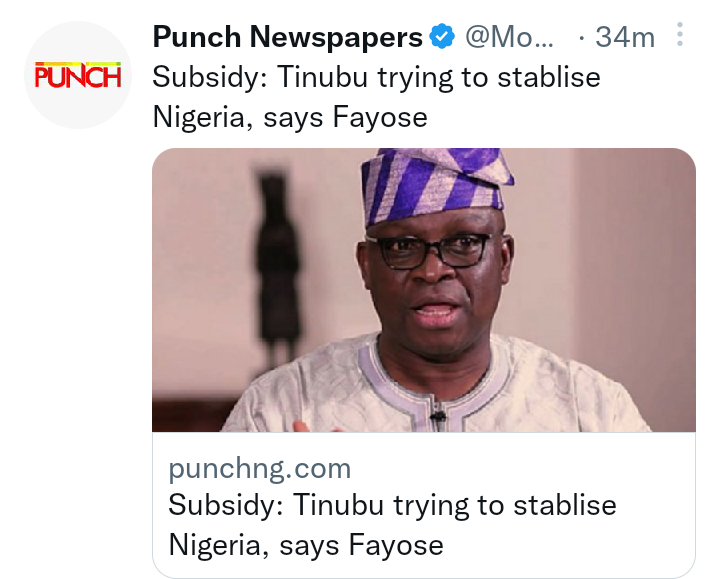 Credit: Twitter
As expected, this development elicited reactions on Twitter as it was shared by PUNCH on their official handle.
A Twitter user identified as Raziel said, "How will the hardship 'ease with time'? Will Fayose give people buses to transport them to work? Will the government increase the minimum wage? Or is it $800 million for poor people that will ease the inevitable galloping inflation? The system benefits a few, and you punish 200 million people?"
Bestly said, "I am in pain! Are you now Tinubu's spokesman? Not only stabilise."
Screenshots of people's reactions: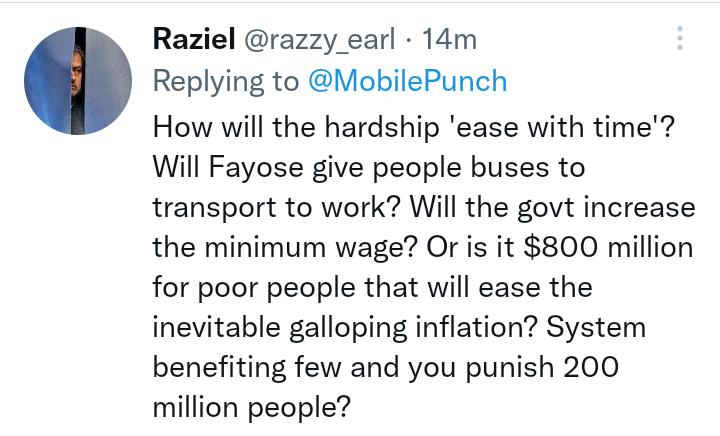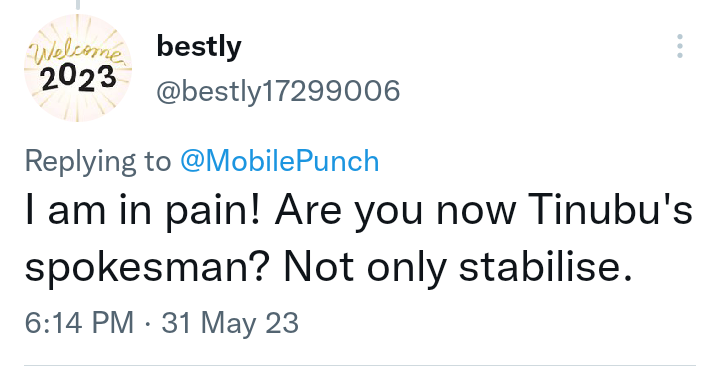 GCGentleOfficial (
)