Fani-Kayode Reacts As The CBN Governor, Godwin Emefiele Was Suspended By President Tinubu
The Central Bank of Nigeria's Governor, Godwin Emefiele, allegedly received an indefinite suspension from the just sworn-in President, Bola Ahmed Tinubu, according to a news that only recently reached Nigerians.
In response to what seems to have occurred, the former minister of ation, Femi Fani-Kayode, expressed his happiness for Nigerians and the Central Bank of Nigeria (CBN) that Godwin Emefiele has finally been removed from his position on his verified Twitter profile.
There has never been someone who has wanted to ruin the nation like the Apex leader, in his opinion, who is an embodiment of all that is evil. Speaking further, he said that the suspended CBN Governor had committed several crimes against Nigerians and would thus be held accountable for all of them.
Finally, the former spokesperson for the APC Presidential campaign council, who appears pleased, claims that Emefiele must be held accountable for his treasonous actions, including funding insurgencies, looting, and corruption, as well as his wicked and barbaric demeanor, conspiracy to thwart Nigerians' will, and every attempt to undermine/scuttle the nation's democracy.
Remember that the CBN chairman in issue was facing arrest by the Department of State Service (DSS) for allegations of corruption and other offenses when he introduced the plan to revamp the country's currencies (the N200, 500, and 1000).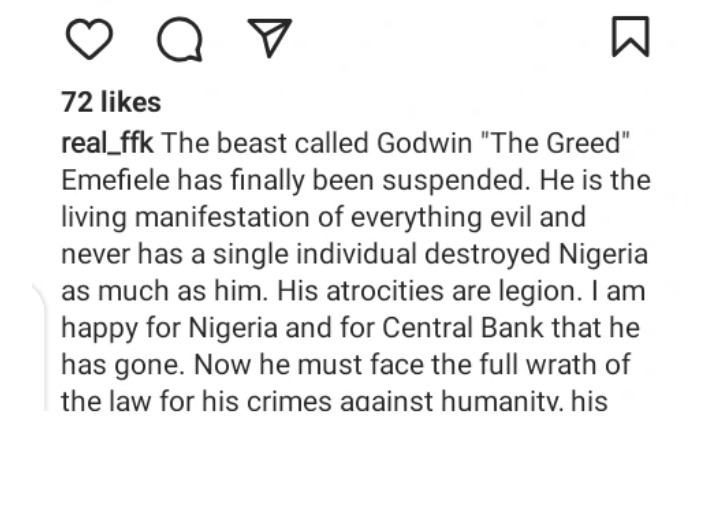 Guys, what is your opinion on this?
Smith101 (
)