Even Though I Am A PDP Member, I Supported Obi Because I Wanted A Fair Distribution Of Power- Ortom
Click to see the Video on Twitter,,,Watch video on Twittter
Samuel Ortom, the departing governor of Benue State, revealed his main reason for supporting Mr. Peter Obi, the Labour Party's presidential candidate, during the past election in a recent exclusive interview with Arise TV.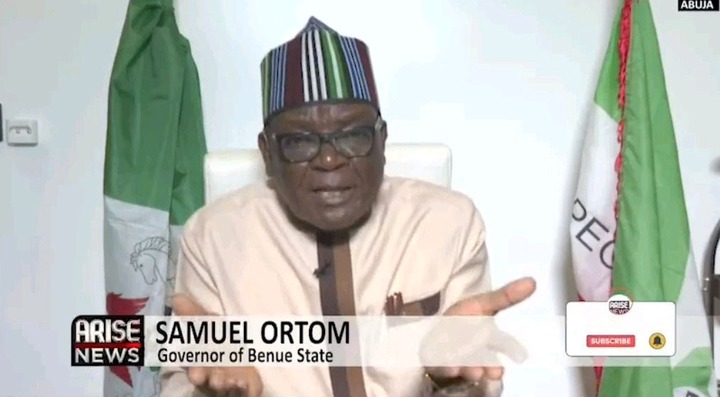 In making his choice, Governor Ortom reaffirmed his steadfast dedication to the ideals of justice and fairness. He fervently believes that the southern region of Nigeria must have the presidential position.
In the interview, Governor Ortom made clear that he supported Mr. Obi because he was adamant that the country's leadership system should uphold regional balance and a fair allocation of power. He wanted to support Mr. Obi in order to highlight the importance of this idea and advance justice in the political system.
According to Samuel Ortom's exact comment, "If Peter Obi scores 300, they will take 3 and add it to APC's score." "I worked for a president from the South because I believe in equity, justice, and fairness." Tinubu is a part of it, as is Mr. Peter Obi. I chose to work for Obi because I believed that the presidency should go to that location. I am a member of the PDP, yet I worked for Obi during his presidency. Other colleagues, including those from the G-5, worked for Tinubu as promised. I can be in the PDP while also working for the good of the country. If Tinubu is sworn in, I would back him in his bid to become the country's president."
Please watch the video below:
https://twitter.com/ARISEtv/status/1661345016311160836?t=_AFTpQ8n4Qqxlregag4VtQ&s=19
Dear esteemed readers is is your take on this article, do you think Samuel Ortom made a positive statement as regards to the presidency issue.
ComfyWriter (
)