Election Tribunal: Nigerians In Diaspora Submit Petition To UK Prime Minister, Rishi Sunak
Click to see the Video on Twitter,,,Watch video on Twittter
According to a report by The INDEPENDENT, two Civil Society Organizations made up of Nigerians living in the United Kingdom have submitted a petition to the office of the British Prime Minister, Rishi Sunak, to draw his attention to the ongoing Presidential Election Tribunal in Nigeria.
In the petition written on May 14, 2023, by the POSupport Network (POSN), and Diaspora Action for Democracy (DAD), some Nigerians in the UK are urging Sunak to insist that the Nigerian Judiciary, National Assembly, and the Executive uphold fairness, transparency, justice, principles of democracy, and defend the Nigerian Constitution and the 2022 Electoral Act as amended.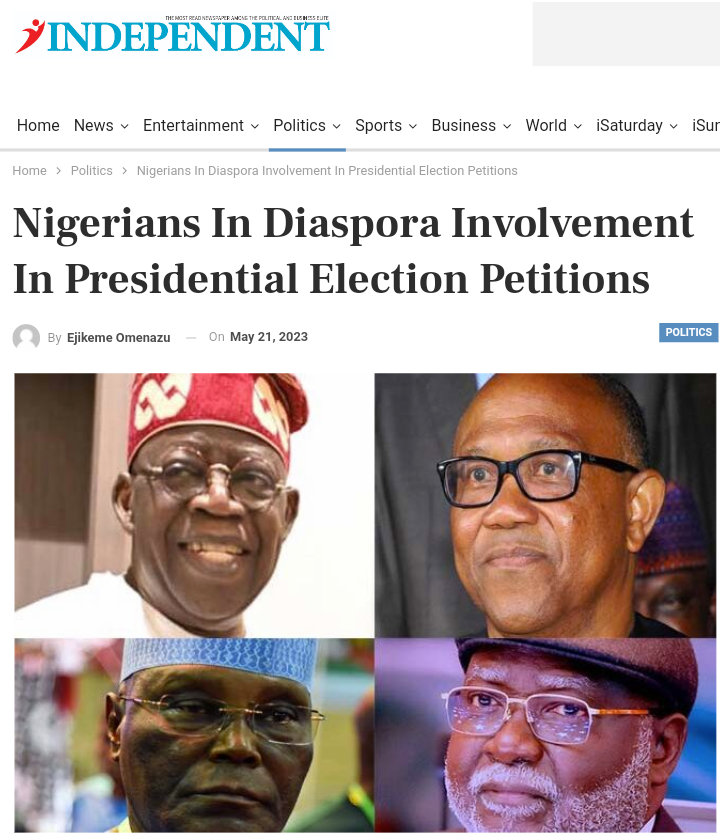 They also called on the Prime Minister to formally inform its Nigerian counterpart that it is interested in the Presidential Election Petitions Tribunal proceedings, and insist on the judiciary delivering a fair and credible judgment on the cases that have been submitted by opposition candidates.
Finally, the letter, which was signed by the group's representatives, Dr. Udeinya Onovo (Head of Strategy and Research Coordinator for POSN), and Dr. Innocent Nweke (Global Coordinator), the British government was asked to impose severe sanctions on politicians found to have engaged in actions that were alleged to have marred the February 25 presidential polls, alongside their families and associates.
SOURCE: The INDEPENDENT.
FranklySpeaking123 (
)