Buhari Is Handing Over Power To Someone In His Own Party, Unlike Me That Gave Him Power – Jonathan
Former Nigeria's President, Goodluck Jonathan, has revealed why he had to concede defeat after losing the 2015 presidential election to President Muhammadu Buhari, saying that he wasn't nonchalant, but he had interest in Nigeria.
The former President made this announcement known to the public during an interview with some newsmen from Arise Television on Monday, May 29, 2023, where he said that the situation of Buhari handing over to the President-elect and presidential candidate of the All Progressives Congress, Bola Ahmed Tinubu was a different situation from his time. He handed over power to a different political party, unlike what is happening today.
Click to see the Video on Twitter,,,Watch video on Twittter
According to Goodluck Jonathan, he said, "This situation now is different from my time. Buhari is handing over to his own party, unlike my time when I handed over to another party".
He also added by saying, "I had already conceded defeat to Buhari during my time because I was more interested in the country than myself, and some of my senior officers were afraid if the next government would throw all of us into jail without a fair hearing".
Source: Daily Post Nigeria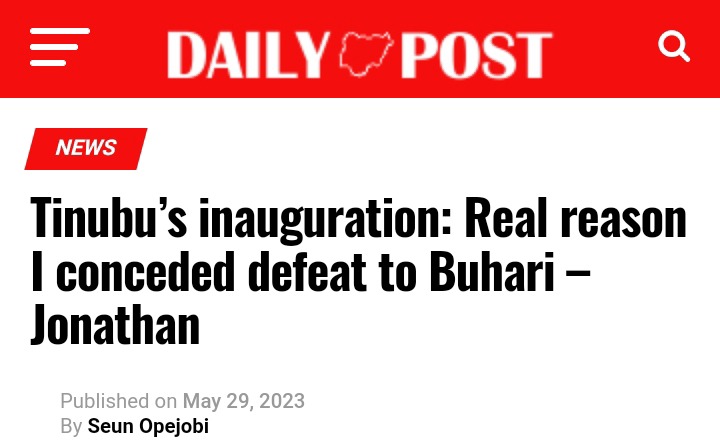 Deemmasco (
)