Atiku Abubakar's spokesperson urges Tinubu's team to release evidence of his alleged meeting with investors in France
Atiku Abubakar's spokesperson, Daniel Bwala, has requested that the presidential transition team of Asiwaju Bola Tinubu provide proof of his purported meeting with investors in France.
This was announced by Bwala on Saturday his verified Twitter account.
Click to see the Video on Twitter,,,Watch video on Twittter
The spokesperson for Atiku said that Tinubu did not meet with any investors in France.
According to Bwala, only politicians and lobbyists from Nigeria were invited to meetings with the Jagaban.
I challenge them to share the images from Tinubu's alleged official travel to meet with investors, etc., now that he has supposedly concluded his trip.
"I bet you if they release the photos, the foreign investors would turn out to be Nigerian politicians and Nigerian lobbyists from Nigeria," he said.
About 10 days ago, roughly two weeks after returning from his post-election vacation, Tinubu left Nigeria.
SCREENSHOT FROM VANGUARD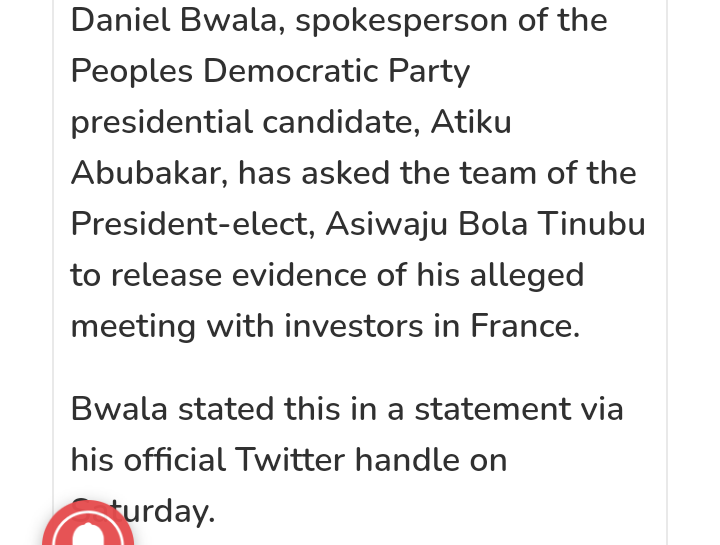 Rabiu Kwankwaso, the presidential candidate for the New Nigeria Peoples Party, and Tinubu met in Paris last week.
You may recall that Tinubu left on May 10, with some speculating that he left again for health reasons.
But in a statement, his advisor Tunde Rahman claimed the President-elect had departed the country to complete some obligations.
According to Rahman, Tinubu will meet with a few of his advisors to fine-tune the transition's plans, programs, and policy options.
During his trip, Tinubu will meet with investors and other important allies, he said.
MrRank (
)