Adamawa lawmaker defects from APC to PDP
Alhassan Hammanjoda, the elected representative of Ganye Constituency in the Adamawa State House of Assembly, has defected from the All Progressives Congress (APC) to the Peoples Democratic Party (PDP).
Click to see the Video on Twitter,,,Watch video on Twittter
Hammanjoda, who has been in the APC since 2015, announced his defection on Wednesday during a plenary session of the assembly. He said that he made the decision after careful consideration of his options and in consultation with his supporters.
"I have decided to defect from the APC to the PDP because I believe that the PDP is the party that can best represent the interests of my constituents," Hammanjoda said. "The PDP has a proven track record of good governance, and I believe that it is the party that can best deliver on the promises that I made to my constituents during my election campaign."
Hammanjoda's defection is a major blow to the APC in Adamawa State. The APC currently holds a majority in the state assembly, but Hammanjoda's defection will reduce the party's majority to 19 seats. The PDP currently holds 16 seats in the assembly, and Hammanjoda's defection could give the PDP the majority in the assembly.
Hammanjoda's defection is also a sign of the growing political instability in Adamawa State. The state has been rocked by a series of political defections in recent months, and the political landscape in the state is becoming increasingly fluid.
The defection of Alhassan Hammanjoda is a significant development in Adamawa State politics. It remains to be seen what impact his defection will have on the balance of power in the state assembly and on the state's political landscape.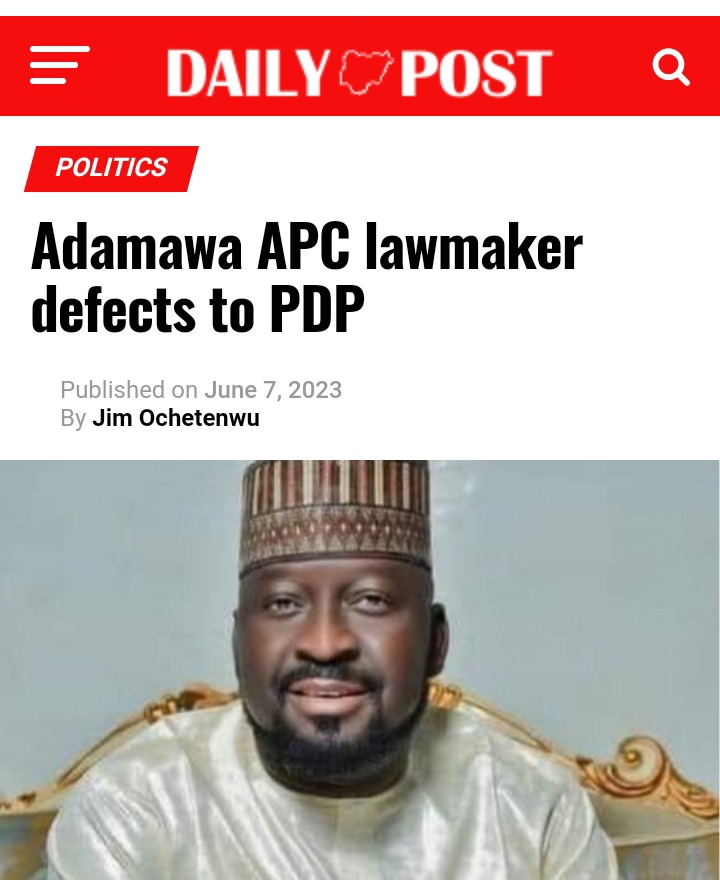 Please follow like comment and share it.
Eokwori25 (
)