$20000 Dress: You Guys Want Me To Be Timid But My Mum Raised A Confident Woman, BBN Tacha Responds
Reality Star and former big brother Naija pepper Dem housemate, Tacha Akinde has called out netizens who said she has low self esteem
This energetic lady came under attack after claiming her red carpet dress for the African Magic Viewers Choice award costs twenty thousand dollars, using her official Twitter handle, she said:
Click to see the Video on Twitter,,,Watch video on Twittter
"There's a serious pandemic in town called "LOW SELF ESTEEM" and it's just LAUGHABLE!! you guys want me to be TIMID SOO BADD! Sorry to burst your bubbles!! My MOTHER RAISED A CONFIDENT WOMAN!! I can't be anything else. Ps: I'm drinking your tears right now"
Check out the screenshot below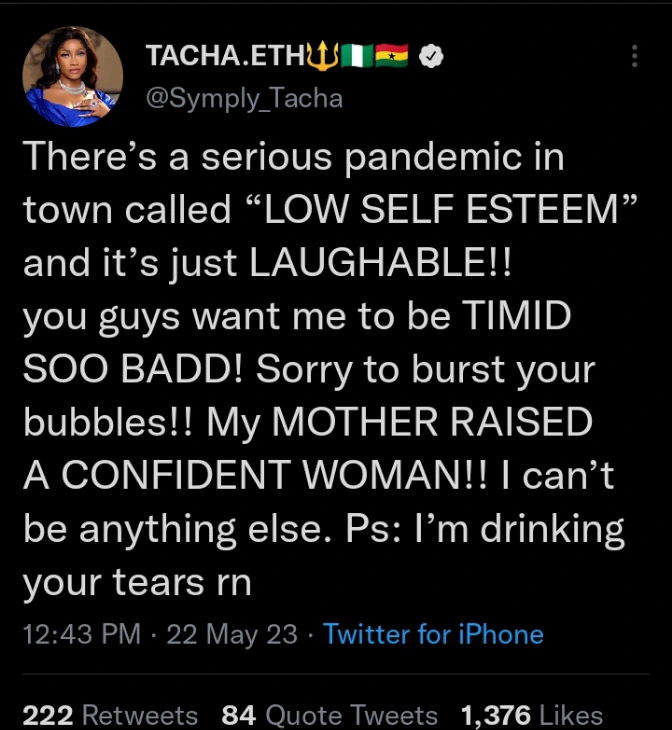 Tacha is a twenty seven year old media personality, entrepreneur, model, influencer and brand ambassador from Rivers State, Nigeria. she is also an activist.
over to you dear readers, what do you think about this article?
please share your thoughts with us in the comment section
Lisajoe (
)